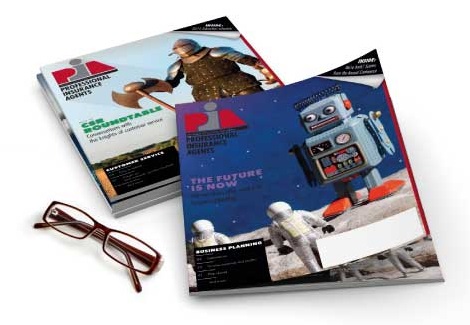 Sep 13, 2017
Zick accepts PIANY Distinguished Insurance Service award
GLENMONT, N.Y.—Richard Zick, president and CEO of Utica First Insurance Co. in Utica, N.Y., received Professional Insurance Agents of New York's 2017 Distinguished Insurance Service award at the association's annual board of directors meeting held Sept. 12, 2017.
"Dick is admired and respected by his peers and colleagues in the industry. This award recognizes his long-standing commitment to the insurance industry, and commemorates his dedication and hard work, as well as the unwavering loyalty he has demonstrated to independent agents throughout his career," said John C. Parsons II, CIC, CPIA, AAI, president of PIANY.
Zick began his insurance career after graduating from Niagara University. His career has taken him from underwriter to underwriting management to executive vice president to his current position, President & Chief Executive Officer of Utica First Insurance Company. He also served as President of the Utica Chapter of CPCU. An Adjunct Professor for many years at a local college, he had taught the New York State agent's licensing courses and management courses.
Zick has received several honors and awards during his career. In 2003 and 2010, PIANY honored Zick with the Executive of the Year. The award recognizes an individual from an insurance company, a general agency or a managing general agency who has demonstrated qualities that best foster a strong working relationship with agents and brokers, and who has exemplified a commitment to professionalism and service. In 2005, Zick received a Presidential Citation from PIANY. This citation was given in appreciation for his ongoing and unwavering support of New York's professional insurance agents. He was named Insurance Professional of the Mohawk Valley in 2005; Man of the Year by the Greater N.Y Council of Insurance Brokers on November 18, 2005 and the 2008 UJA-Federation of New York's Insurance Division.
Active in the industry, Zick currently serves on the Property Casualty Insurers of America Board. He is a past board member and chair of of New York Insurance Association, and the American Association of Insurance Services.
Zick is active in the community, having served on the Boards of the United Way, Community Foundation, Family Services, Boy Scouts, Teugega Country Club, Upstate Cerebral Palsy, and Utica College.
PIANY is a trade association representing professional, independent insurance agencies, brokerages and their employees throughout the state.
- 30 -