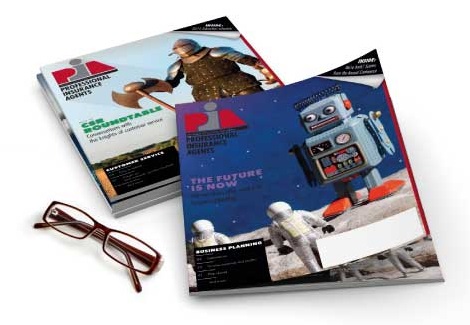 Mar 1, 2020
PIANJ member named an Agent of the Year for professionalism and community involvement
(Bergen County, New Jersey; Feb. 27, 2020)--Entrepreneur John Wilkens combines a passion for professionalism with philanthropy. His dedication to putting customers first and a lengthy record of community involvement was recognized with Wilkens being featured as one of Insurance Journal's Top 20 Agents of the Year, representing independent agencies from all regions of the United States.
A family tradition
John Wilkens is no stranger to the insurance business. He is a second-generation insurance agent of the Robert J. Wilkens Insurance Agency started by his father in 1992. Over 18 years, he expanded the company from two to 23 employees, two to 18 direct carrier appointments, nearly $18 million in premium volume, and to three locations in New Jersey. Wilkens specializes in personal lines package business such as umbrella and small business BOP Workers' Comp/Commercial Auto.
"This is a humbling experience to be recognized by the industry after many years of hard work and dedication. We have a very talented, synergistic team working well together, which when combined with partnering with the most reputable carriers, results in providing optimal services for our clients," said John Wilkens, Agency Principal, Robert J. Wilkens Insurance Agency.
Key to the agency's success is a focus on one-on-one service. "We try to educate our clients about the importance of carrying the correct coverage and what to avoid," explained Wilkens. "Our agency is all about recommending the appropriate coverage to meet each client's individual, unique needs."
Services are provided to clients in Florida, New Jersey, New York, and Pennsylvania. From three locations in Bogota, Dumont and Hawthorne, New Jersey, the company services customers, continues to grow and plans to open a new office in Red Bank this year.
Community involvement
According to Insurance Journal, the selected agents give back to their communities. Wilkens participates actively in the community volunteering his time and talent with several area nonprofit organizations. "Throughout my career, I have been committed to philanthropy and participating in the good that comes out of a group's collective efforts. Witnessing first-hand the final result and its impact on people's lives at a time of need, brings a feeling of pride and satisfaction," he said.
Serving on the Darren Drake Foundation's board of trustees, Wilkens helped the newly founded nonprofit raise funds for individuals to learn and pursue vocational careers in an accredited program. The Foundation honors the legacy of Darren Drake, who was killed in a 2017 terrorist attack in New York City.
"My biggest passion is carrying on my cousin Darren's legacy and seeing my aunt and uncle's resilience under very difficult circumstances, while being part of a caring group wanting to make a difference in the community. Working together, we raised over $55,000 specifically for scholarships for high school seniors in New Milford, Bergenfield, Dumont and Oradell to further their careers in the trade or technical professions, " he said.
For the past two years, he has served on The Community Chest's board of managers and participates on the Development and Special Events Committees. During that time, he worked with the Robert J. Wilkens Insurance Agency to raise over $10,000 from its staff and partner insurance carriers for The Chest's galas and Fall Fest.
"The nonprofit community relies heavily on the corporate social responsibility of businesses. As a board member, John Wilkens has introduced our work to associates in multiple industries. We appreciate the Robert J. Wilkens Insurance Agency's support and sponsorships of The Community Chest," said Dr. Shelly Wimpfheimer, Executive Director of The Community Chest, a nonprofit organization serving eastern Bergen County, New Jersey for 87 years.
Other nonprofit organizations also benefited from John and Robert J. Wilkens Insurance Agency's philanthropy. They have supported Habitat for Humanity Bergen County by raising funds in a co-op sponsorship with Farmers Mutual Fire Insurance Company of Salem. In Demarest, John also provided sponsorships for several organizations, including the Demarest 5K with proceeds contributed to the Demarest PTO, Demarest Day and Fireworks celebration, and St. Joseph's Church's events. His philanthropic interests and support extend to national organizations, including St. Jude's Children's Hospital, Shriners Hospital for Children, and the Jimmy V Foundation.
About Robert J. Wilkens Insurance Agency
For nearly 30 years, Robert J. Wilkens Insurance Agency has provided insurance coverage custom tailored to meet individual, family and business needs. Working with a range of highly rated insurance carriers, the company offers the highest level of quality protection to customers in New Jersey, New York, Pennsylvania, and Florida. As a result of its commitment to individual service, the agency's growth emanates from a solid referral basis and by providing customers with confidence in knowing caring, professional industry experts will resolve their concerns in a timely fashion.
For further information about Robert J. Wilkens Insurance Agency, visit https://wilkensagency.com/ or contact (201) 343-1741. Stay updated about the company's activities on Facebook and LinkedIn.
###
For more information about the award, click here.
The agency was featured on News 12 NJ.