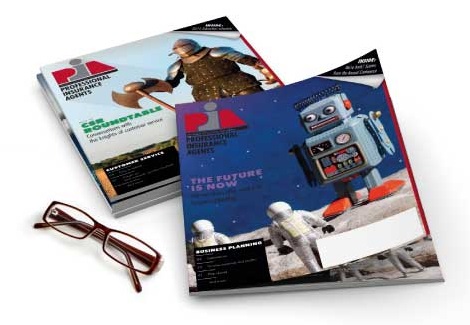 May 25, 2017
CBS news correspondent Steve Hartman to keynote PIANJ/PIANY Annual Conference
GLENMONT, N.Y.—The Professional Insurance Agents of New Jersey and Professional Insurance Agents of New York State Inc. will convene for their Annual Conference, the Northeast's largest gathering of insurance industry professionals, June 11-13 at Harrah's Resort and Casino, Atlantic City, N.J. Nearly 2,000 agents, company representatives, exhibitors and other insurance industry professionals attend the event each year.
Steve Hartman, CBS news correspondent of "On the Road," will deliver the event's keynote address Monday afternoon. His address will unveil the lessons he has learned during his travels for his news segments. Hartman has won many prestigious broadcast journalism awards for his work, including an Alfred I. dePont-Columbia University Award, an Emmy Award for writing and four RTNDA/Edward R. Murrow Awards, including three consecutive citations for Best Writing. On October 28, 2016, Hartman featured a story about two friends with Down syndrome on "On the Road," which prompted PIA's interest in having him keynote its conference, as an apropos connection to PIANJ's 30-year partnership with Special Olympics and the Fun Run that concludes the conference on the Atlantic City Boardwalk each year.
"The annual conference is the must-attend event of the year for all industry professionals throughout the region," said Donald F. LaPenna Jr., PIANJ president. "The conference offers attendees the opportunity to participate in educational seminars; network; and view the latest insurance products and services available to them and their clients during the trade show, which has expanded and sold out in past years, including this year.
The event also features six continuing-education sessions for industry professionals to maintain licenses and stay abreast of important issues for their agencies and their clients. All of the courses are approved for New Jersey, New York state and Pennsylvania CE credits.
"Insurance professionals face a wide variety of issues in today's marketplace," said John C. Parsons II, CIC, CPIA, AAI, PIANY president. "The conference will provide ample opportunity for agents to obtain the cutting-edge knowledge they need to enhance their businesses."
The education classes include: Embrace Your Future as an Independent Agent taught by Christopher Paradiso; Protecting Your Clients Assets and Your Income, hosted by Gary Slavin, CIC; Delivering Value in a Price-Driven Marketplace, taught by John Fear, CPIA, CISR, CPSR; Don't Get Caught Under Water! Understanding the NFIP, taught by Steven D. Lyon, CPCU, CIC, CRM, AAI, ARM, AIS, CRIS, MLIS; Cyber Liability—The Next Level of Exposure and Coverage also hosted by Fear. The education sessions will conclude on Tuesday, June 13 with Lyon's The Renewal Trap—What Are You Leaving on the Table? also taught by Lyon.
PIANJ will present its 2017 Distinction of Professionalism awards, honoring the industry's most dedicated professionals. Attendees also will have access to the sold-out industry trade show, featuring over 200 exhibitors. On Tuesday the annual Fun Run to benefit Special Olympics New Jersey hosted by the New Jersey Young Insurance Professionals, will take place along the Boardwalk. The Fun Run, combined with the PIANJ Annual Golf Classic, has raised more than $3.6 million for SONJ since they were established, 33 years ago.
For more information, or to register, for the PIANJ/PIANY Annual Conference, visit the event website at www.pia.org/events/conf/nynj/; or contact the PIA Education and Conference Department at (800) 424-4244 or conferences@pia.org.
PIANJ and PIANY are trade associations representing professional, independent insurance agencies, brokerages and their employees throughout their respective states.