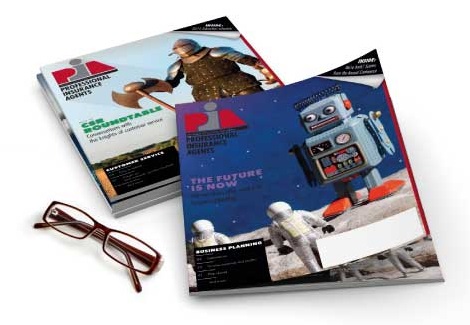 May 18, 2017
Register for PIANY/PIANJ Annual Conference, June 11-13
Register today for the PIANY/PIANJ Annual Conference at Harrah's Atlantic City, N.J. The event, which continues to break attendance records, will be held June 11-13, 2017. Be sure to join your association for the largest insurance show in the Northeast. And, back by popular demand, PIA has created a conference app to help you navigate the annual conference. For assistance downloading the app, PIA offers a step-by-step guide, including a video tutorial.
Steve Hartman, CBS news correspondent of "On the Road," will deliver this year's keynote address Monday, June 12. You can follow him on Facebook and on Twitter. Popular Jersey Shore band The Nerds will perform exclusively during the PIA Poolside Paradise Reception, held Monday evening. You can follow the band on Facebook and on Twitter.
Download the conference app
You can download the app on your smartphone today. It's easy to do and it can be accessed via the Apple Store, Google Play or by entering the URL (https://crowd.cc/s/GZ6A) on your mobile browser. The app will allow you to view the schedule of events; view maps of the conference space (e.g., trade show, education locations; Atlantic City, etc.); review the list of attendees; access social-media announcements; and more. Also, the app allows you to scan other attendees' badges for their contact information. For assistance downloading the app, PIA offers a step-by-step guide, including a video tutorial.
Plan to attend the education seminars at the event and earn up to 12 credits in two-and-a-half days. Topics include:
Sunday, June 11
Embrace Your Future as an Independent Agent, taught by Christopher Paradiso. With the advent of major retailers and product delivery services knocking at the door of the insurance industry, the future and relevance of the independent insurance agent continues to be challenged. The question is, what does the future for independent agents look like and how can they differentiate themselves as licensed risk managers in an environment that has become increasingly all about price. This course will look at the future of independent agents and how they can use the variety of tools available to them to identify themselves as a resource to protect clients' assets and businesses in an ever-changing marketplace.
Monday, June 12
Protecting Your Clients Assets and Your Income, taught by Gary Slavin, CIC. An uncovered business income/overhead expense loss due to a fire, civil authority, a disability or death will affect your insureds' income adversely. It also will affect your income as their broker or agent. This course is a two-fold approach to the management of business-income events. The first half of the class will concentrate on your insureds' business-income loss and the extra-expense needs due to a covered loss. The second half of the class will focus on managing the loss of income through business overhead expense & key person coverages, which allows a business to stay viable and solvent after an altering event (e.g., the owner's disability or death).
Positioning Value in a Price Driven Marketplace, taught by John Fear, CPIA, CISR, CPSR. A client's ignorance regarding how much an insurance policy protects him or her in the event of a claim is one of the greatest obstacles agents face. Clients are bombarded with a never-ending flow of messages about "how much they can save" while there is almost no discussion of the product's value and how it will protect a lifetime of assets. This course focuses on how to develop a client's understanding of an insurance policy; the professional delivery of the insurance proposal; and how to develop the long-term relationship with the insurance consumer and industry partners.
Don't Get Caught Under Water! Understanding the NFIP, taught by Steve Lyon, CPCU, CIC, CRM, AAI, ARM, AIS, CRIS, MLIS. Did you know if a proof-of-loss claim is not filed within 60 days after an event, an insured's rights to coverage under the National Flood Insurance Program usually are forfeited? There's only one federal flood plan and if you are going to use it, you must know the rules. This course will show participants how to identify flood areas properly; how to use the most recent online resources that are available to agents; how to explain to clients what their policies do and do not cover; and how to handle claims. The discussion will focus on the NFIP's recent changes; its reauthorization; and what is and is not covered. This class will discuss the ins and outs of the NFIP/Write-Your-Own policy and alternative and excess-flood markets.
Cyber Liability—The Next Level of Exposure and Coverage, taught by Fear. National elections. Autonomous vehicles. Home-security systems. Online shopping. With so many of our everyday actions taking place in the digital world, cyberliability has taken on an even greater importance in the world of insurance. What is the risk to your personal and commercial insurance clients regarding their digital identity? How could their personal information be compromised? What can be done to protect them? These are a few of the questions that will be answered during this course. It also will look at the increasing risk to individuals and businesses and what can be done to raise awareness about the need and develop a risk-assessment plan to protect them.
Tuesday, June 13
The Renewal Trap—What Are You Leaving on the Table?, taught by Lyon. An insurance producer or underwriter must play a variety of roles—from detective, to educator, to negotiator and then advocate—the standard of care an insurance producer owes to its client in New Jersey is one of the highest in the nation. If you can meet the standard of care in New Jersey then you can meet it in almost any other state. This course will focus on exposure identification and analysis; marketing; proposals; policy issuance; binders; certificates of insurance; identification cards; endorsements; payments; audits; claims handling; renewal reviews; account rounding; effective loss control; checklists and self-audits; proper documentation; and recent court decisions for and against agents and brokers.
For more information, including registration and sponsorships, see the event page on the PIA website.