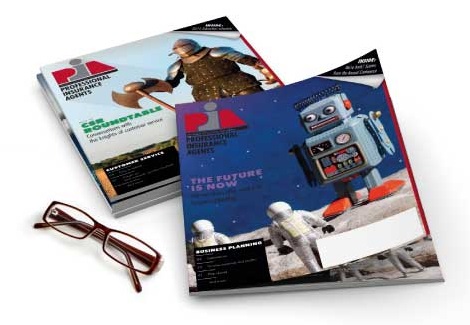 Mar 14, 2014
PIACT president: Surround yourself with 'good people'
MASHANTUCKET, Conn.-The Professional Insurance Agents of Connecticut Inc.s newly elected President Peter Frascarelli, CPIA, of the Peter M. Bakker Agency in Avon, announced the associations latest initiatives and urged members to take advantage of PIA benefits, during his inaugural presentation at the PIACT Annual Convention, held March 13-14, 2014, at the MGM Grand at Foxwoods in Mashantucket, Conn.
Frascarelli told his audience of agents and industry professionals that one key to his successful career has been surrounding himself with good people. He identified his predecessor, immediate past President Augusto Russell, CIC, along with his incoming slate of officers as a few of those people who have been instrumental in his industry career as well as his involvement within PIACT.
"Something that I learned early in my career was to surround yourself with good people," he said. "This ultimately is a people business. Clients are people. Your staff are people." To Frascarelli, it is this recognition of the humanity of others that encourages industry growth and fosters a meaningful career.
Frascarelli congratulated Russell on a productive tenure, making it a goal to continue to set in motion some initiatives that they have both worked on closely together. He will move them forward, citing that the two of them have set in motion certain initiatives to stimulate PIACT growth and development, both in membership and in professional enrichment.
"We have initiatives to attract more new blood into the independent agency system," Frascarelli said. "We have been collaborating with a Connecticut college over the past year to develop a curriculum to help educate, license and prepare new potential employees for our PIA agencies."
He also said that, along with his officers, he would work with the staff in Glenmont to continue to develop the quality tools, training and technology that helps PIACT members stay ahead of the curve.
"These initiatives will help you to maintain and manage your relationships with people," he said.
Finally, Frascarelli urged members to stay active in the association, to be vocal about opinions, to support the local Connecticut community and to find joy in membership and involvement.
Frascarelli closed on a light note, saying that while "theres no guarantee, I feel pretty good about this upcoming year."
The PIACT Annual Convention is the largest industry gathering of insurance industry professionals in the state, hosting more than 400 agents, company representatives, exhibitors and other insurance industry professionals. Offering attendees the opportunity to participate in educational seminars; network and view the latest insurance products and services available during the expanded trade show, featuring more than 70 exhibitors. In addition to the numerous education sessions, the association presented its 2014 Distinction of Professionalism Awards, honoring the industrys most dedicated professionals.
PIACT is a trade association representing professional, independent insurance agencies, brokerages and their employees throughout Connecticut.
-30-