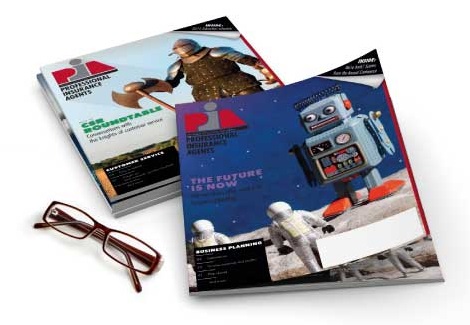 Apr 17, 2013
Assembly Insurance Committee Chair shares coffee with PIANY
Your PIANY board shared coffee and met with New York State Assembly Insurance Committee Chairman Kevin Cahill, D-103, who visited PIA headquarters in Glenmont, Wednesday, April 17.
During a collegial and informal discussion, Assemblyman Cahill commended professional agents for their civic, charitable and economic involvement in their communities around the state. "I know well the high level of involvement you represent, and I thank you for it because it's rare and extraordinary."
The assemblyman discussed issues he knows are important to agents, who had the opportunity to discuss concerns and topics of interest to PIA members around the state. Among the issues Cahill addressed were hurricane deductible triggers, an issue he said PIA has brought to his attention. He relayed his understanding that, "next-door neighbors, sitting on adjacent properties will have very different exposure and deductibles in the event of a hurricane if this issue goes unaddressed," and he affirmed his commitment to addressing this impending crisis.
Cahill also shared stories he's heard and seen from his visits to Sandy-affected communities and in post-event meetings, and the challenges he understands agents and homeowners are dealing with. He made a point to highlight that professional agents have a unique perspective and understanding of the needs of their communities and clients. From obstacles presented by out-of-town FEMA adjusters to new building requirements to which homeowners will be subjected through the NFIP, he assured agents he recognizes the multitude of flood-insurance related concerns agents and their customers face.
The agents reiterated the hope that lessons learned from Sandy will be remembered and that lawmakers and regulators can work together to affect meaningful change.
Another issue the assemblyman raised is PIANY's fight to repeal unnecessary photo inspection regulations. He shared his own experience with the impractical process and said he agrees with PIANY. "We need to change this," he said. "It originally was intended to fight fraud. It's not working, and it's senseless."
PIA officers conveyed their appreciation for Assemblyman Cahill's attention and for taking the time to meet with your association. As the meeting concluded, he invited PIA to participate this week in upcoming roundtable discussions on insurance coverage following a disaster this week to examine further issues following a catastrophe, including insurer claims settlement practices available coverage for consumers and properly informing insureds of their coverage needs and options.