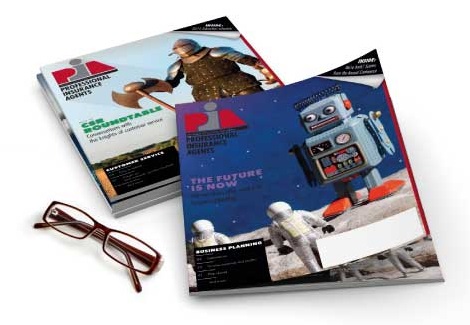 Jun 15, 2011
PIANJ's Savino: Relationships have changed
"Agents must embrace industry evolution"
ATLANTIC CITY, N.J.-Newly elected president of the Professional Insurance Agents of New Jersey Keith Savino, CPIA, told independent agents that they are experiencing a defining moment in the industrys history this week during his inaugural address at the PIANJ/PIANY Joint Annual Conference at the Trump Taj Mahal Resort Casino in Atlantic City, N.J.
Speaking to a room of some 500 industry professionals, Savino urged his audience to view the industry in its entirety, rather than perceiving it as a composition of distinct specialties, through which each individual is restricted by his or her own field of expertise.
"We can all agree on two basic, common and indisputable facts about all business types: 1.) Nobody gets paid, until someone sells something; and 2.) How we sell (insurance) products; who we sell them to; and who sells them, is always evolving."
Savino then challenged his audience, noting that successful agencies will use modern tools to enhance traditional relationships, which customers will expect of their agencies.
Savino said that, while relationships have always been at the heart of the insurance business, the way clients develop and perceive these relationships is constantly evolving.
"For 300 years, weve been building relationships and social networks in the insurance industry. But, the definition of a relationship has evolved
"Does anyone here doubt that in five years the most successful firms will be tapping both the retiring boomer market and upcoming youth market, which wants a relationship enhanced and enabled through technology? Where local offices have a place and coexist with our ability to offer a multi-carrier, multi-choice option in an office and online?"
Having achieved agreement from his audience on these ideas, he pushed further, urging them to recognize the urgency of embracing change and being proactively involved in it.
"We are at an important point in our industrys development," Savino said, advising young professionals to take an active role in recreating their business and urging their mentors and employers not to stand in their way. "History will look back at this moment and recognize that this is the time where we were able to adapt and evolve."
Looking forward, Savino said the industry should work together using every tool available to independent agents and carriers to take charge of its future, direct change and ensure its success.
"Lets make the ideas reality," he said. "Its up to the people in this room to make our industry work together to be the very best it can be. This is your industry and your future."
PIANJ is a trade association representing professional, independent insurance agencies, brokerages and their employees throughout the state.
-30-