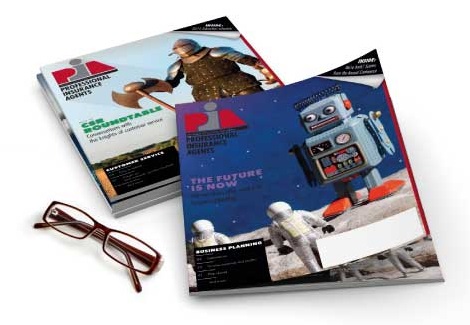 Mar 5, 2018
PIA brings prestigious CPIA designation program to Vermont
GLENMONT, N.Y.—The Professional Insurance Agents of Vermont announces it has partnered with the American Insurance Marketing and Sales Society, or AIMS, to administer the prestigious Certified Professional Insurance Agent, or CPIA, designation program to Vermont insurance agents, starting with its inaugural program in May, 2018.
"PIA is excited to offer the CPIA program to our members and all agents in Vermont," said PIAVT Executive Director Kelly Norris, CAE. "PIAVT is committed to bringing education, advocacy, information and business resources to its members and the CPIA designation fits this purpose handily. PIA members have a well-developed understanding of their industry and their trade, which allows them to better advise their clients about their specific insurance needs. Insurance customers can be confident they are working with a professional when they see the PIA logo and a professional designation like the CPIA."
To earn the CPIA designation, candidates participate in a series of three, one-day Insurance Success Seminars—Position for Success (CPIA 1); Implement for Success (CPIA 2); and Sustain Success (CPIA 3) within three years. To maintain the CPIA designation, designees must complete an update every other year. Each seminar is approved for seven General continuing-education credits and there is no examination necessary to earn the designation. The completed CPIA designation qualifies as an approved E&O Loss Control Seminar by Utica National Insurance.
"PIA's partnership with the AIMS Society in other states, as well as its reputation for providing the highest-quality education programs made AIMS eager to partner with PIA to offer the CPIA designation to agents in Vermont," said AIMS Society Executive Director Donna Gray. "Our focus always has been to provide information that is truly actionable, realistic and applicable to real agency situations. Those who've earned their CPIA designation aren't just 'smarter'—they actually work smarter."
The first round of CPIA courses offered through PIAVT and AIMS Society are scheduled for May and June 2018. The CPIA 1, CPIA 2 and CPIA 3 courses will be held Wednesday, May 30; Thursday, May 31 and Friday, June 1, respectively, at the Holiday Inn, Burlington, Vt. Popular PIA instructor John Fear, CPIA, CISR, will lead all three courses. The courses will cover:
Position for Success (CPIA 1). Participants are encouraged to focus on internal and external factors affecting the development of effective business development plans. Factors discussed include a review of the state of the insurance marketplace; analysis of competitive pressures; necessary insurance carrier underwriting criteria; and consumer expectations and understanding.
Implement for Success (CPIA 2). Participants will be provided with specific tools for analyzing consumer needs; they will learn to utilize risk identification techniques to gather pertinent prospect information; they will develop skills necessary to assimilate information gathered into a customized protection program; and they will participate in exercises designed to promote effective delivery of proven solutions.
Sustain Success (CPIA 3). This program focuses on fulfilling the implied promises contained in the insuring agreement. Students will review methods of providing evidence of insurance coverage; will discuss policies and procedures for controlling E&O including, policy review and delivery, endorsements, claims processing and handling of client complaints. This course includes a review of professional expectations; the law of agency; and legal and ethical standards.
During the May 30 class, PIAVT will host a networking lunch to welcome PIA of Vermont members and share the benefits and services that are available through their PIAVT membership.
For information, or to register for the classes, click here or contact the PIAVT Education Department at education@pia.org or (800) 424-4244. Package pricing for all three courses is available.
The CPIA designation is perfect for every agency staff member from the "seasoned" professional to the novice who is just starting out in the insurance industry who wants to expand their level of professionalism. While these courses are sales-oriented, they provide extra value to an agency because each seminar includes a discussion of E&O and loss prevention techniques.
PIAVT is a trade association representing professional, independent insurance agencies, brokerages and their employees throughout the state. Membership in PIAVT is available to independent agents and insurance-related businesses affiliated with independent agents. Benefits will include: agents E&O and other coverages; education; information; Creative Services; networking opportunities and advocacy. Businesses that want to join the association can do so by logging on to the PIA website; by calling (800) 424-4244; or by email at memberservices@pia.org.
-30-