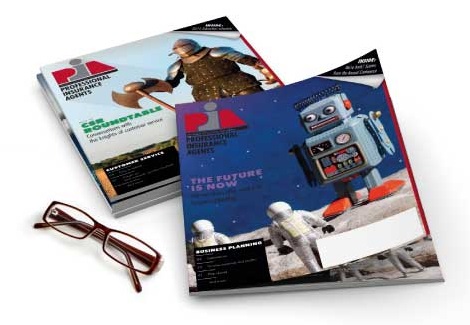 Nov 18, 2011
PIANY/NYIA CEO Conference: Agencies, companies partner for insurance industry success
Professional insurance agents, company representatives and other industry professionals discussed the challenges of doing business and growing agency/company partnerships during the Professional Insurance Agents of New York State Inc. and New York Insurance Associations CEO Conference, held in November, at the Century House, Latham, N.Y.
Two panel discussions took place during the conference. The first panel, Keep and expand your business: What you must have from your partners today, was moderated by PIANY President Richard A. Savino, CIC, CPIA, and included: Elizabeth Heck, president and COO, Greater New York Mutual Insurance Co.; Mark Prechtl, executive vice president and CEO, Chautauqua Patrons Insurance Co.; Kevin Ryan, CIC, CPIA, president/CEO, The Valley Group Inc.; and Michael J. Skeele, CIC, CPIA, president, Skeele Agency Inc.
Panel #1. Front row: (Left to right) Elizabeth Heck, Richard Savino, CIC, CPIA.
Back row: (Left to right) Mark Prechtl, Michael J. Skeele, CIC, CPIA, and Kevin Ryan, CIC, CPIA.
The second panel, Trends in a changing market-who will prosper (and why)?, was moderated by NYIA Chair Richard Zick, CPCU, AU, and included: Steven Coffey, president and CEO, Broome Co-operative Insurance Co.; Timothy Dean, CIC, CRM, president Marshall & Sterling Inc.; Charles Hinman, president and CEO, Oswego County Mutual Insurance Co.; and Keith Savino, CPIA, president, Professional Insurance Agents of New Jersey Inc., and COO, WRG Insurance.
Panel #2. (Left to right) Charles Hinman, Timothy Dean, CIC, CRM, Richard Zick, CPCU, AU, Steven Coffey and Keith Savino, CPIA.
Agency/company interactions
Moderator Rich Savino asked each of the panelists what they considered the "must haves" and the "wants" from their agency/company partnerships during the first panel discussion. All the panelists agreed communication and personal connections are the keystones of this partnership.
"Its still a people business," said Ryan, about the importance of strong relationships with carriers. "The interactions that happen face-to-face when people can shake hands are valuable to the agent/carrier partnership."
When asked how different marketing and services affect the way agents and carriers engage their customers. Most of the panelists discussed how social media (e.g., Facebook, Twitter, LinkedIn) can be helpful, but needs to be balanced with other forms of communication.
"Technology is important-but tricky," said Heck. "We want to provide information, but we dont want to lose the agent-insured relationship." From the company side, she stressed the importance of a "middle-of-the-road" approach where companies can help their agents provide service by making more information available online (e.g., billing and claims), without losing the face-to-face interaction between the agent and the insured.
During the roundtable discussions that took place after the panel discussion, participants discussed several topics, including: changes that affect the agency/company partnerships most; catastrophe property loss; or agency-company interface technology.
When discussing the changes in how agencies and companies need to interact, a number of groups discussed the importance of working together to raise awareness of the agent distribution system.
PIA members and their insurance companies can participate in the compelling new PIA Branding Program, Local Agents Serving Main Street AmericaSM, to increase their market share while strengthening the place of Americas professional independent agents in the insurance marketplace. The campaign consists of a series of print and radio advertisements that PIA members can run in local publications, customized with their agency logo and contact information, and (optionally) a company logo.
For more information, visit PIA Nationals website online.
One group that discussed catastrophe property loss noted that its important for producers to protect themselves by having customers sign a written document to indicate they have declined flood and other coverages. And, after the catastrophe, producers can get more involved in taking first reports to help speed up the claims process.
With regard to interface technology, one group noted: "Social media is nothing more than amplified networking capabilities. It increases agencies ability to deal with customers."
PIA members who are considering or who need help with their social media plans, should visit PIAs Agency Marketing Tool Kit, which offers free marketing tools and strategies that coordinate with PIAs public relations efforts to remind the public why their professional independent agent is the best way to purchase insurance. Resources include consumer fliers, print-ready advertisements, social media materials, sales letters and more.
The second panel focused on trends (e.g., technology, call centers, multiple-sales channels, etc.) occurring in the insurance industry and discussed what it will take for agencies and carriers to thrive as the industry evolves.
As the conversation began with all the changes in technology, the use of social media and how it continues to affect how the insurance industry does business, Keith Savino offered this advice: "We cant make more out of technology than it is-its just business. Its just a way to communicate. Forget about it as technology and embrace it as a business practice."
The panel had mixed feelings about the use of call centers. While the panelists acknowledged that they can offer a valuable service for answering day-to-day questions, most stated that call centers diminished the relationship between the agent and his or her insured and make professional independent agents seem more like captive agents.
When Moderator Zick asked about the effects of carriers utilizing multiple-sales channels, Dean noted: "The best bet is to think local first. We should support the carriers that support independent agents to the best extent possible." And, Savino cautioned, "What works today may not work 20 years from now. Captive agents are looking to get back into the independent distribution system."
STAR survey results
PIANYs Business Issues Director Jim Pittz, CPIA, took a few moments to review the major findings of the 2011 PIA System & Transaction Agency Research Survey, which include the following:
Rate-quote systems. Insurers may want to get their agents feedback on their rating systems, because the STAR survey finds a good deal of differentiation in this area.
More download. Agents want carrier download to expand its usefulness, beyond the usual personal lines.
Sales process management. Agency management system vendors may have an opportunity to introduce or expand functionality in managing the sales process.
Commercial-lines comparative rating. For premium-comparison system vendors, agents need more companies and more lines to work with these systems, especially for commercial-lines rating.
Consistent Real Time use. The most consistent Real Time users get the most value out of their companies technology. This finding is an important reminder for agencies to explore ways of using Real Time more consistently whenever its available.
For more on the STAR survey, see the October issue of PIA magazine, or view more results online.
For more on this year's CEO Conference, see the January issue of PIA magazine, or click here.