Bill to standardize windstorm deductible triggers reported from Assembly Committee
A PIANY priority bill that would standardize windstorm deductible triggers (A.2729/S.2032) was unanimously reported from the Insurance Committee of the Assembly on Monday. The bill would protect coastal homeowners from the problems associated with insurance companies' use of widely varying deductible triggers. PIANY has long advocated for this consumer-protection measure.
Sandy update
Cuomo announces federal reimbursement to New York City for Sandy costs. Gov. Andrew Cuomo announced that New York state has provided $47 million to New York City for reimbursement of costs incurred following the effects of Superstorm Sandy. These costs resulted from the use of emergency protective and repair measures, such as restoring electric service, basic heat, hot water and exterior repairs to damaged homes so that residents would not have to relocate temporarily to public shelters or other locations. More... Mortgage relief program for Sandy victims. Cuomo also announced that Fannie Mae and Freddie Mac are unveiling a new mortgage relief program to protect victims of Superstorm Sandy from large spikes in their mortgage payments. More…
DFS Mobile Command Center to visit locations in Nassau County
Representatives of the Department of Financial Services will be available to meet with residents inside the agency's Mobile Command Center, which will be stationed at these locations: Friday, May 3, Freeport Recreation Center, Freeport; Saturday, May 4, Cedar Creek Park, Merrick; and Monday, May 6, Toys R Us Parking Lot, Massapequa. More…
DFS approves revisions to Workers' Compensation Experience Rating Plan
The DFS approved revisions to the New York Compensation Insurance Rating Board's Workers' Compensation Experience Rating Plan with an effective date of Oct. 1, 2013. The purpose of these revisions is to improve the plan's optimal performance, as well as to bring several plan parameters to national standards. The first change revises the split point, used to distinguish between primary and excess losses in the calculation of experience modification factors, from $5,000 to $10,000. The second change revises the formula to determine the maximum modification debit factor. The revised formula is Maximum Mod = (1.10 + 0.0004 x E / G), where E represents the employer's expected losses and G is the State Reference Point. This latter change is expected to affect a relatively small number of employers and results in negligible overall impact. For more details, click here.
Court revives lawsuit over failed group self-insured trust
In Health Acquisition Corp. v. Program Risk Management, New York's Court of Appeals ruled that the former members of a terminated New York group self-insured trust can go after the trust administrator and others for allegedly concealing the true financial condition of the trust from its members.
PIANY Advisory Councils discuss issues affecting agents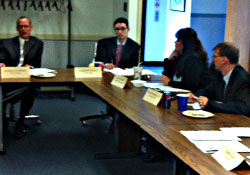 The PIANY 2013 Spring Advisory Council program resumed April 30 in Albany. The meeting was chaired by Bruce Rowledge of the Rowledge Agency in Scotia. Council members from the Capital District engaged in an informal conversation on market conditions, company and industry relations, legislative and regulatory issues and the effects Superstorm Sandy had in all of these areas. PIANY President Michael Skeele, CIC, CPIA, attended the meeting to address member concerns and give an overview of what is happening at PIANY. PIANY's Director of Government Affairs Matthew F. Guilbault, Esq., and Government Affairs Counsel Campbell Wallace, Esq., also attended to discuss the legal, legislative and regulatory matters affecting member agencies, and update members on the bills that currently are moving through the Legislature. The PIANY meetings continue Wednesday, May 15, in Central New York, and include a networking reception in Syracuse in honor of President Skeele. For more information on this event or the Advisory Council Program, please contact PIANY Deputy Director Kelly Norris, CAE, at knorris@pia.org.

Click for more information.
PIANY legislative hot lists
Want to see the status of an important bill? Think PIA first. Select PIANY Priority Bills for bill status. Select Recent Actions for any movement in the past week affecting any bill PIANY is tracking. More information, including summaries and bill texts, can be viewed by clicking on the bill number in the chart.
FIO calls for input ahead of Natural Catastrophe Report
Michael McRaith, director of the Federal Insurance Office, has issued a notice to call for the submission of information regarding natural catastrophes and insurance for a report to be submitted to Congress—an FIO report mandated by the Biggert-Waters Flood Insurance Reform Act of 2012. According to the notice from the Treasury, "the [Biggert-Waters] Act requires the Director of the FIO to conduct a study and submit to the Committee on Banking, Housing and Urban Affairs of the Senate and the Committee on Financial Services of the House of Representatives a report 'providing an assessment of the current state of the market for natural catastrophe insurance in the United States.' "
NCCI releases 2013 Issues Report
The NCCI released its 2013 Issues Report, which takes a hard look at some of the cutting edge issues facing our industry today. These include: NCCI's take on the industry's current and future financial condition; a broad examination of economic issues in workers' compensation from Insurance Information Institute President Bob Hartwig; a look at the opportunities and concerns surrounding new opt-out efforts in individual states; and NCCI's annual overview of completed and planned state legislative activities.
New health insurance form is shorter
The Obama administration unveiled simplified forms to apply for insurance under the president's new health-care law this week. Among the new changes is a three-page form for single individuals who are looking for health insurance. More…

Click for more information.
PIANY benefit of the week: Life, health and long-term disability
Your agency is a priority to PIA ... let us do your shopping. PIA aims to reduce your premiums and customize your employee benefits. Let us take care of your group medical, including an association plan in New York, from sole proprietor to large agencies; group term life insurance; group long-term disability; and group dental. Take advantage of PIA Members' Choice employee benefit programs. Get your no-obligation quote today. Call (800) 424-4244 or click here.
NEO Series: New Employee Orientation for Agency Personnel
Give your rookies the training they need to succeed—without interrupting your daily sales and service activities. If you have a new employee on board or are planning a new hire, this course is for you! This program is designed for unlicensed employees with less than 12 months experience in the agency. Your employees log on to the course via the computer each week to get the training they need. There's no travel, no interruption to daily agency activity and, most importantly, no time out of the office! Through this "virtual classroom," your new hire can connect with other rookies, bounce questions off the facilitator, and learn in manageable pieces in the comfort of their home or office! This is an online computer course for unlicensed/new employees. Join PIA Monday, May 13, 2013, for the eight-week online course. For more information, or to register, click here, or call PIA for more information at (800) 424-4244.
Earn Life CE credits before the June deadline
Need Life CE credits for your June 30 corporate license renewal? Don't wait until it's too late. Register today for one of PIA's upcoming courses offering LA credits: CPIA 2: Implement for Success, Wednesday, May 8, 2013, Plainview; CPIA 1: Position for Success, Thursday, May 16, 2013, Glenmont; and Webinar: Living Trusts and Estate Planning Tuesday, June 4, 2013. For a full listing of courses, or to register, click here. To navigate the latest licensing rules and regulations, log on to PIA's Licensing/CE Compliance Central.
Personal-lines credit scoring
New York Regulation 182 permits insurance carriers to use credit scoring; but, for personal lines, there are clear dos and don'ts, which are outlined in emergency Regulation 182. PIANY supported enactment of this law, as it was already in use by many New York-licensed insurers that write personal lines in other states. It also holds agents harmless from legal actions related to use of credit, so long as the agent follows the insurer's instructions. Companies are permitted to use credit data for initial underwriting purposes (but credit cannot be the sole reason for rejecting an applicant). Once the company has accepted the insured, credit can only be used if it has a positive effect, such as lowering the insured's premium. Moreover, the law and regulation affect only the use of credit information. Its requirements do not affect actions that result from considerations of other underwriting factors. For a complete review of the dos and don'ts, log on to the PIANY website and type QS31360 in the Google-facilitated search box, or fax a request to PIANY's Industry Resource Center at (888) 225-6935.

Click for more information.