President signs bill to pay Sandy flood insurance claims
On Sunday, President Barack Obama signed a $9.7 billion extension to the National Flood Insurance Program. The extension will provide a short-term increase in the Federal Emergency Management Agency's borrowing authority for the flood insurance program. The House and Senate passed the bill last week. The action was applauded by PIA National. On Jan. 15, the House will vote on a second Sandy-related bill, which could provide an additional $51 billion in storm-recovery aid. Munich Re AG recently released a report that stated that last year natural catastrophes caused $160 billion in overall losses and $65 billion in insured losses worldwide. The year's highest insured loss was caused by Sandy, with an estimated amount of $25 billion.
FEMA to hold briefings on ABFE and more
FEMA will hold a series of briefings for insurance agents about the Advisory Base Flood Elevations, Biggert-Waters and the National Flood Insurance Reform Act Congress passed last year. The first two briefings scheduled for Ocean and Atlantic counties are: Insurance Agent Workshop Ocean County, is scheduled for Thursday, Jan. 17, 2013, 9:30 -11:30 a.m., at the Toms River Library. The Atlantic County Insurance Agent Workshop is scheduled for Friday, Jan. 18, 2013, from 8 a.m.-noon, at the Atlantic County Training Center.
PIA flier explains flood insurance premium increases to policyholders
PIA created a consumer-oriented flier that answers the question on many flood insurance policyholders' minds, "Why is my flood insurance premium increasing?" The flier explains recent rates hikes in the NFIP and provides other valuable information about floods and flood insurance. This flier is available on PIANJ's Storm Info Central.
Professional, independent agents demonstrate extraordinary service in the wake of Sandy
Not surprisingly, PIA members continue to extend extraordinary service to help their clients after Sandy, and we'd like to share that. Do you have customers who can report how they benefited from working with a professional, independent agency? Have you worked with any carriers that have shown exemplary customer service? Please share your photos and stories with your PIA Communication Department by emailing them to mchristiano@pia.org.
2013 WC benefit rates
The Division of Workers' Compensation released the 2013 Schedule of Disabilities. The weekly disability benefit rate is 70 percent of wages, subject to the maximum of 75 percent of the State Average Weekly Wage. The current SAWW is $1,102, which makes the maximum disability benefit now $826, up from $810 last year. The minimum benefit rate is $220, up from $216 last year.
FDIC announces expiration of temporary unlimited coverage for noninterest-bearing transaction accounts
Beginning Jan. 1, 2013, noninterest-bearing transaction accounts will no longer be insured separately from depositors' other accounts at the same insured depository institutions. Instead, noninterest-bearing transaction accounts will be added to any of a depositor's other accounts in the applicable ownership category, and the aggregate balance insured up to at least the Standard Maximum Deposit Insurance Amount of $250,000, per depositor, at each separately chartered IDI. The FDIC no longer will provide separate, unlimited deposit insurance coverage for NIBTAs at insured depository institutions. Section 343 of the Dodd-Frank Act provided separate, unlimited FDIC coverage for NIBTA depositors through Dec. 31, 2012. Beginning Jan. 1, 2013, the FDIC will insure NIBTAs in accordance with 12 C.F.R. Part 330, which generally provides each depositor up to $250,000 in coverage at each separately chartered IDI. IDIs have been encouraged to take reasonable steps to provide adequate advance notice to NIBTA depositors of the changes in FDIC insurance coverage so that they may consider the impact of any change in coverage in their management of these transaction accounts. More…, More… and More…
Department of the Treasury/IRS release proposed rulemaking on the PPACA's employer requirements
On Dec. 28, 2012, the Department of the Treasury and the IRS released a notice of proposed rulemaking on the Affordable Care Act's employer requirements under Internal Revenue Code Section 4980H, which takes effect on Jan. 1, 2014. The proposed regulations are intended to provide a comprehensive set of rules upon which employers can rely as they work to comply with the law and mitigate tax liabilities. The proposed regulations may be relied upon and will remain in effect until final regulations are issued. The notice of proposed rulemaking is scheduled for publication in the Jan. 2, 2013, Federal Register, and comments are due by Monday, March 18, 2013. In addition, the IRS announced a public hearing on the notice of proposed rulemaking for Tuesday, April 23, 2013. More…
NAIC releases report on profitability by line, by state in 2011
The National Association of Insurance Commissioners released the Report on Profitability by Line by State in 2011. The report estimates and allocates profitability in property/casualty insurance by state and by line of insurance. The ability to analyze results in this way enhances transparency on the financial impact that the economic climate has had on each of these lines.
December ACORD forms update
In the latest ACORD forms update, countrywide form 133 (2012/12) Workers' Compensation Insurance Plan Assigned Risk Section is revised by replacing the entire Applicant Communications subsection within Applicant's Statement section and replacing the entire text in the Producer Communications section. This and other ACORD forms are now directly available under the ACORD Advantage Program. If you already are registered for the ACORD website, enter your username and password here.
A.M. Best news
A.M. Best Co. has placed under review with positive implications the financial strength rating of "A-" (Excellent) of First Nonprofit Insurance Co. (Chicago). The under-review status follows the announcement that FNIC has entered into a definitive agreement under which it will become part of the AmTrust Financial Services Inc. As part of the transaction, FNIC's parent, Mutual Insurers Holding Co., will be demutualized and converted into a stock-holding company, which will continue to own FNIC. The positive implications reflect the expected benefits to be derived by being part of a much larger organization with access to additional financial and managerial resources. The transaction is expected to close during the first half of 2013 and is subject to regulatory and policyholder approval. More…
PIANJ Webinar: Real Life Claims Examples to focus on Sandy-related issues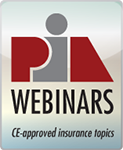 Join PIANJ for a three-hour Webinar Real Life Claims Examples on Tuesday, Jan. 15, 2013, from 10 a.m.-1 p.m. The Webinar will discuss both personal- and commercial-lines claim examples and their coverage outcomes. In the aftermath of Superstorm Sandy, this Webinar will help with the prevention of E&O claims through a better understanding of policy coverages and shortcomings. Coverage topics will include, but not be limited to: business income (including utility services and civil authority); NFIP and excess flood insurance; 2011 homeowner changes; a review of client contracts; claim-reporting responsibilities; blanket additional insured endorsements; insurance to value, including ordinance and law coverage; defense of indemnities; damage to premises rented; legal liability coverage; and other scenarios to identify areas of weakness and coverage gaps in your clients' insurance programs. For more information, or to register, click here.
E&O assistance available through PIA Industry Resource Center
PIANJ offers access to an industry expert to assist with your errors-and-omissions questions. These issues are of utmost importance to your day-to-day agency operation—don't let these important questions keep you up at night. Let PIA's E&O Consultant Robert Sullivan, Esq., who has expertise in the defense of insurance agents and brokers in professional liability and complex insurance litigation, help you. To pose a question, email resourcecenter@pia.org or fax your inquiry to the PIA Industry Resource Center at (888) 225-6935. PIA also offers several E&O-related courses, many of which offer a discount on your E&O coverage. View the 2013 schedule here.
Let PIA's E&O programs serve you
PIA offers a selection of quality E&O insurance coverages for producers. Don't delay, click here to obtain a quote, or contact PIA's Member Services Department at (800) 424-4244. Remember—Think PIA first for all your E&O needs.
Updated DMV code lists
The Department of Banking and Insurance recently updated its listing of companies authorized to insure motor vehicles in New Jersey. The code list is available both in alphabetical and numerical order. This information is a "must have" for agency staff when assisting customers who have had an auto accident. To order the alphabetical listing (QS29008) or numerical listing (QS29009), log on to the PIANJ website and type the appropriate QuickSource number in the Google-facilitated search box, or fax a request to PIANJ's Industry Resource Center at (888) 225-6935.