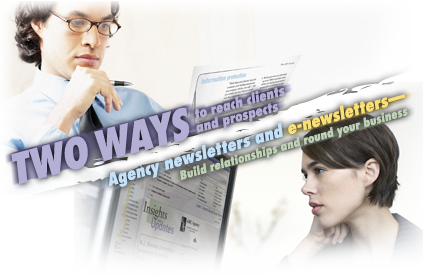 From logos and letterhead to complete strategic campaigns, Creative Services, writes, designs and produces original and on-target promotion, always building on a fundamental understanding of the insurance business—for a fraction of what you'd pay an outside firm.
Agency newsletters and new e-newsletters—
Build relationships and round your business
PIA's agency newsletters help you retain your clients and reach prospects. Now, you can send your clients personalized newsletters in print or by email though PIA's Creative Services. Insights & Updates and Your Business, the personal lines and commercial lines newsletters are available in several options, featuring state-specific, client-oriented information that reminds readers of value and services they may not have thought about.
E-newsletters
Reach your clients and prospects directly on their desktops or hand-held electronic devices.
Insights & Updates sample | Your Business sample
Traditional print newsletters
Real, print newsletters literally touch your customers through the mail. Choose from spot- or full-color, stuff-and-seal, mailer options and even reply cards that allow readers to request information from your agency. And, with every printed edition you order, your receive a free PDF, suitable for posting on your agency's website.
Four-color samples (Insights & Updates | Your Business)
Spot-color samples (Insights & Updates | Your Business)
It's easy to get started. Review our prices (Insights & Updates | Your Business) and decide how you want to reach your clients.
Phone: (800) 424-4244 • Email: creativeservices@pia.org