PIANY met with newly appointed Assembly Insurance Committee Chair Kevin Cahill, D-103, to discuss PIANY's 2013 legislative agenda as well as post-Sandy insurance issues.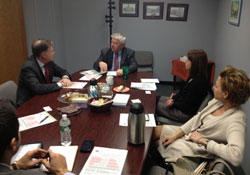 Pictured (clockwise from the top) are: PIANY past President Kevin Ryan, CIC, CPIA; Assemblyman Cahill; District Office Liaison Kristin Murphy; legislative representatives Allison Lee and Andrew Marocco (bottom front). PIANY Director of Government & Industry Affairs Matthew F. Guilbault, Esq., also attended the meeting.
PIANY committee member Thom Ianniccari, CPIA, met with state Assemblyman Steven Katz, R-99, and Sen. Greg Ball, R-40, in their local offices.
| | | |
| --- | --- | --- |
| From left: Assemblyman Steve Katz, R-99, and PIANY Committee Member Thom Ianniccari, CPIA. | | From left: Sen. Greg Ball, R-40, and PIANY Committee Member Thom Ianniccari. |