Join Your New Regional Advisory Councils
PIANY is engaging agency leaders through its Regional Advisory Councils, and we want you to be a part of it. These councils are for anyone within the agency ranks to participate.
What are the PIANY Regional Advisory Councils?
These meetings are informal, roundtable discussions at which agency staff share their opinions on the industry's hottest issues, access the most up-to-date industry information, influence the association's programs and services, and network with peers.
They are used to understand the issues that affect the state's independent insurance agents, so that the association can better serve you.
What is the Regional Advisory Councils' mission?
To connect attendees at the grassroots level of PIANY by providing:
A direct conduit to the existing statewide committees and board to obtain information, priorities, and talent.
A voice for agents in the process and evolution of their association.
When are the meetings held?
These meetings will be held virtually two times a year, and will focus on topics that are relevant to current committee and board priorities. If you are interested in attending any of these meetings, contact PIA Industry Resource Center at resourcecenter@pia.org, or simply click on the date you want to register for.
Mark your calendar for our 2023 meetings:
Capital Region
Chairperson: Bruce D. Rowledge, bruce@rowledge.com
April 21, 2023, 2 p.m.
Oct. 26, 2023, 2 p.m.
Central Region
Chairperson: John C. Parsons II, CIC, CPIA, AAI, JCP2.PIANY@ParsonsInsurance.com
April 21, 2023, 2 p.m.
Oct. 26, 2023, 2 p.m.
Finger Lakes
Chairperson: David L. Sidle, CIC, CPIA, david@sidleinsurance.com
April 18, 2023, 9 a.m.
Oct. 25, 2023, 9 a.m.
Hudson Valley
Chairperson: Frances A. Scott, fran@fascottins.com
April 18, 2023, at 2 p.m.
Oct. 24, 2023, at 2 p.m.
Long Island
Chairperson: Justin Fries, CIC, CPCU, CPIA, jfries@gafinsurance.com
April 25, 2023, 2 p.m.
Oct. 25, 2023, 2 p.m.
New York City
Chairperson: Leslie Rogoff, leslie@madisonavenuebrokerage.com
April 21, 2023, at 9 a.m.
Oct. 26, 2023
North Country
Chairperson: Richard Andrews, LUTCF, rich@andrewsagencyinsurance.com
April 21, 2023, 2 p.m.
Oct. 26, 2023, 2 p.m.
Southern Tier
Chairperson: Jamie Ferris, CIC, AAI, CPIA, Jamie@thewoodoffice.com
April 18, 2023, 9 a.m.
Oct. 25, 2023, 9 a.m.
Western
Chairperson: Fred Holender, CLU, CPCU, ChFC, MSFS, fholender@lawleyinsurance.com
April 25, 2023, 9 a.m.
Oct. 27, 2023, 9 a.m.
The Regional Advisory Councils have expanded from seven to nine regions:
Capital Region
Central New York
Finger Lakes
Hudson Valley
Long Island
New York City
North Country
Southern Tier
Western New York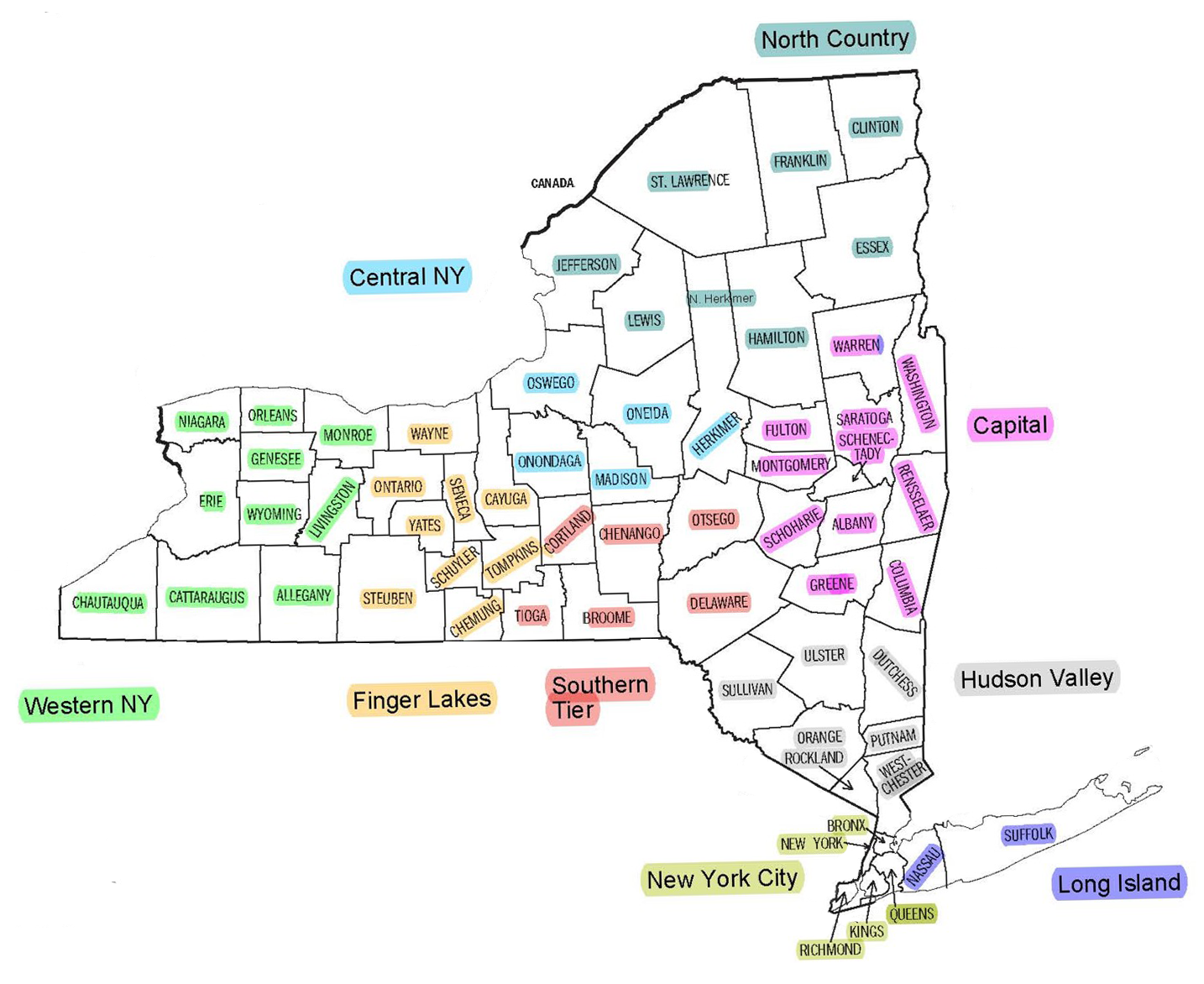 Because of its virtual format, PIANY will be able to invite local government representatives, policymakers, technical experts, and even legal experts to participate in these meetings.
Why are the Regional Advisory Councils and your participation so vital?
PIANY sets its priorities (e.g., legislative agendas, education topics, products and services, and its events) based on your feedback.
While many issues are universal (e.g., scaffold law reform and bait-and-switch issues), New York state is diverse, and each region has its own concerns—agents on Long Island may be more concerned about coastal restrictions and hurricane deductible triggers, while agents in Western New York may focus on lead-paint exposures and excess-line reform.
How do you get involved?
The invitation to join the Regional Advisory Councils is open to everyone within an agency.
Invitations go out via email shortly before each scheduled meeting. Simply respond to the message to take part in the Regional Advisory Council meeting in your area. We want to hear your ideas about how you think the association can better serve your agency, and how the insurance industry is affecting your business.
Want to make sure you're on the list? Call the PIA Industry Resource Center at (800) 424-4244 or email resourcecenter@pia.org.
We look forward to hearing from you!