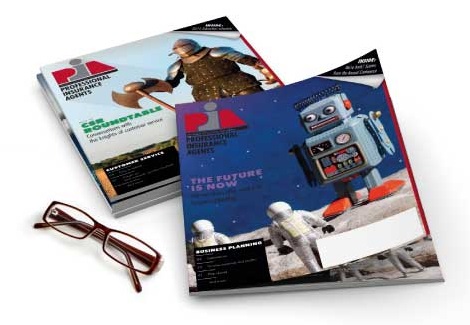 Nov 1, 2013
PIANY honors Ryan with the Hudson Valley RAP Distinguished Insurance Service award
GLENMONT, N.Y.-The Professional Insurance Agents of New York State Inc. presented Kevin M. Ryan, CIC, CPIA, with its Distinguished Insurance Service award at its 10th Hudson Valley Regional Awareness Program, Oct. 30, 2013, at the Doubletree Hotel in Tarrytown, N.Y.

This award is presented to individuals in the insurance industry who have a history of significant contributions and support to the regional insurance community.

"With this award, PIANY honors Kevin for his long-standing commitment to his community and the insurance industry," said Alan Plafker, CPIA, president of PIANY. "The award also commemorates his dedication and hard work, as well as his loyalty to our industry. Kevins professionalism is to be admired and respected."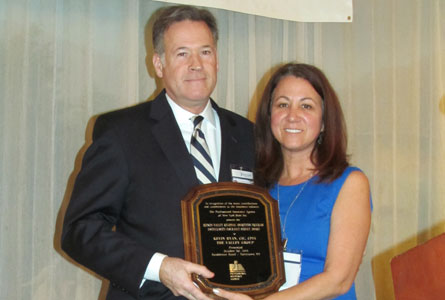 Donna Chiapperino, chair of Hudson Valley RAP, presented the Hudson Valley RAP Distinguished Insurance Service award to Kevin Ryan, CIC, CPIA.
Ryan is president and chief executive officer of The Valley Group Inc., Kingston, N.Y. A PIANY member since 1976, Ryan served as president of the association in 2009-10; president-elect in 2008-09 and first vice president in 2007-08. Currently, he is a member of the Company/Industry Relations, Nominations and Government Affairs committees. Ryan also is a member of the PIANY Political Action Committee and is an ex-officio member of PIANYs Kingston Advisory Council.

Throughout his presidency and beyond, Ryan worked tirelessly to represent New Yorks producer community in meetings and discussions with the insurance department stating PIANYs opposition to and seeking clarification of the states compensation disclosure regulation.

In 2011, Ryan was named PIANYs Professional Agent of the Year. This award is given to an agent who has demonstrated excellence and achievement in insurance marketing and service; has shown a personal commitment to professionalism; and has contributed to PIA and the community. In 2005, Ryan was named Committee Chair of the Year by PIANY for his time and effort guiding the association and implementing programs to benefit its members, while chair of the Government Affairs Committee.

In his community, Ryan is chairman of the board of Health Alliance of the Hudson Valley, an organization that resulted from the new alliance of Kingston and Benedictine Hospitals. He is a former chairman of the Benedictine Hospital and past president of the Benedictine Health Foundation board of directors. He also is a past president of the YMCA of Ulster County and a past board member of the Ulster County Chamber of Commerce.
PIANY is a trade association representing professional, independent insurance agencies, brokerages and their employees throughout the state.
-30-