Rate your carriers in PIANJ's Company Performance Survey
PIANJ launched its Company Performance Survey yesterday. The survey, available through June 30, 2014, gauges your views of the companies you represent. Independent agents can rate the companies with which they do business on 20 performance items, including: claims handling, products and pricing, underwriting, technology and marketing support to gauge their relationship with the carriers. To take PIANJ's Company Performance Survey, click here. For more information, click here.
PIANJ is turning 75—Celebrate with us at this year's conference
The PIANJ/PIANY Joint Annual Conference, June 8-10, 2014, in Atlantic City will commemorate the 75th anniversary of your association. Don't let this event take place without you. The conference already is the largest gathering of insurance professionals in the Northeast. In addition to all the events, education sessions and networking opportunities, be ready to walk the red carpet and see people you may not have seen in a while at the Diamond Anniversary Gala Banquet. Take a spin on the dance floor, visit the photo booth and more. Don't forget about the 30th Annual NJYIP Fun Run to benefit Special Olympics New Jersey. For more information, or to register, click here.
Your PIANJ board, committees work for you
Your PIANJ board of directors met in Edison, May 1. Directors and committee members discussed issues that affect professional, independent insurance agents. Topics included: the extension of the Terrorism Risk Insurance Act; quality continuing-education classes; the PIANJ/PIANY Joint Annual Conference; and more. For a full review, see the May issue of the PIANJ Reporter.
Call to action: House TRIA extension bill would do more harm than good
On May 1, a conceptual draft of a House TRIA extension bill was released. The bill, the Terrorism Risk Insurance Modernization Act of 2014, was written by House Financial Services Chairman Jeb Hensarling, R-Texas, and would extend the authorization of TRIA for only three years, while also making some major changes to the program. The most radical change to the program is the introduction of a new program trigger for all non-nuclear, biological, radiological and/or chemical events from $100 million to $500 million. This increase would be phased in over three years. In addition, TRIM would lower the cap on non-NBCR federal payments to the industry from $100 billion to $75 billion. PIA asks you to contact your members of Congress to ask them to support a straightforward long-term reauthorization of TRIA. PIA advocates for a House version that brings us closer to that goal. More …
Attention shoppers: Agents are a better choice for auto insurance
PIA National has issued a press release reminding customers that buying auto insurance through a local, professional, independent insurance agent is better than doing it through Walmart. PIA expressed skepticism regarding a claim that customers in a pilot program experienced average savings of more than $1,100 a year on auto insurance purchased through an online service promoted in Walmart stores.

Click for more information.
ID Federation launches tool for secure access to multiple carrier sites
An industry coalition, ID Federation Inc., launched a software tool for securely accessing multiple insurance websites with a single sign-on. The tool, SignOn Once (SignOnOnce.org) allows agency staff to use one login to securely access systems of multiple carrier business partners for transactions such as quoting, submission and account management. The ID Federation invites insurance carriers and solution providers to participate in SignOn Once. More …
What you need to know about Indemnity Insurance Corp. RRG
As PIANJ reported previously, an Order of Liquidation for Indemnity Insurance Corp. RRG was entered on April 10, 2014, by the Delaware Chancery Court, which declared the company to be "in an unsound condition," and said that "to continue to transact insurance in its condition is hazardous to its policyholders." For more information on how this affects you as an agent, click here.
Ask PIA: No guaranty funds for RRGs
Q. The risk retention group our insured is participating in for liability coverage has been downgraded by A.M. Best Co. Will the guaranty fund back the policies issued by the risk retention group if they become insolvent? A. Based on U.S. Code Title 15, Section 3902, risk retention groups are not covered by insolvency guaranty funds based on the following: "A risk retention group is exempt from any state law, rule, regulation or order." The code requires a notice be given to policyholders advising the state insurance insolvency guaranty funds are not available for risk retention groups and are not permitted to participate in any insurance insolvency guaranty association to which an insurer licensed in the state is required to belong. For a comprehensive answer to this question, click here. To access our entire Ask PIA library of frequently asked questions and expert answers by PIA's technical staff, click here.
PIA flood update: FEMA issues HIFAA flood memorandum
At the end of last month, the Federal Emergency Management Agency released Memorandum W-14016 regarding Section 3 of the Homeowner Flood Insurance Affordability Act of 2014 (H.R.3370). The purpose of the update was to provide information pertaining to the implementation of the HFIAA revising the requirements and options for notifying policyholders of changes in premium resulting from restoring pre-Flood Insurance Rate Map subsidies for policyholders. It also provides for acceptance of a statement of primary residence. These changes took effect May 1. For more information, including a summary of the changes and what this means for you as an agent, click here.
PIA, Floodbroker.com offer sales tool that helps protect against E&O
PIANJ and Floodbroker.com offer PIA-member agencies a unique sales tool to facilitate the sale of flood coverage and provide critical documentation of the agency's efforts to do so. This exclusive agreement provides PIA-member agencies with a customized link installed on their own agency's website to encourage current and prospective clients to consider and purchase flood coverage. The web portal leads consumers to flood insurance information, and with a simple application it will generate a quote for the customer, as well as a qualified lead for the agency to engage. More …
NJ FICO number assigned to spring storms
The 2014 mid-spring storms produced torrential rain and widespread flood damage in the state of New Jersey. As a result, FEMA has assigned Flood Insurance Claims Office number 326 to track the claims arising from losses occurring from April 28, 2014 to May 1, 2014. For details, see Bulletin W-14018. 

Click for more information.
ACORD Construction Certificate Addendum released 5/1
In the April ACORD forms update, the new ACORD 855 New York Construction Certificate of Liability Insurance Addendum (and Forms Instruction Guide) is released with an effective date of May 1, 2014. See details below on the May 20, 2014, PIA Webinar that will train agencies on the use of this form. Also, new editions of 25 countrywide forms are released, where all but one have a Dec. 1, 2014, effective. These and other ACORD forms are available now directly under the ACORD Advantage Program. If you already are registered for the ACORD website, enter your username and password here.  
PIA offers May 20 Webinar on new NY Construction Certificate Addendum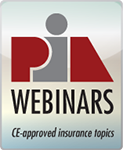 If your agency insures contractors in New York, this is a must-attend Webinar: Training for Issuers of the ACORD 855 New York Construction Certificate of Liability Insurance Addendum, Tuesday, May 20, 2014, from 10 a.m.-noon. When required by the certificate holder, the ACORD 855 New York Construction Certificate of Liability Insurance Addendum should be used to supplement the ACORD 25 with more information about policies insuring contractors. This new form is released by ACORD and effective May 1, 2014. Because completion of the ACORD 855 form will require greater sophistication on the part of its issuers, a Forms Instruction Guide has been written. Training for Issuers of the ACORD 855 New York Construction Certificate of Liability Insurance Addendum will train the issuer of certificates (i.e., producers and their customer service representatives) on the proper completion of the form with the assistance of the guide. Led by PIA's Director of Research Dan Corbin, CPCU, CIC, LUTC, this Webinar is approved for NYCE 2 BR, C3, PC, PA. For more information, or to register, click here. 
PIANJ offers continuing education on ethics
Join PIANJ for Ethics 1, 2, 3 Thursday, May 22, 2014, at the D'Agostino Agency, 105 N. White Horse Pike, Hammonton, N.J., from 9 a.m.-noon. This course gives everyday examples and discusses ethical issues that insurance agents face with their employers, in dealing with insurance companies and with political contracts. This course also discusses pay-to-play requirements. Taught by John D'Agostino Jr., CIC, CPIA, CRM, past president of PIANJ and vice president of D'Agostino Agency, this course has been approved for 3 New Jersey Ethics credits. To register, click here. Class size is limited.
PIA's Technology Hotline
PIA's Technology Hotline is a member-benefit resource to help agents navigate the myriad technology options available for their businesses. The hotline offers advice on questions relating to Real Time, download/upload, comparative rating, hardware, software, workflows, taking full advantage of your system, using technology to sell more effectively, the new social media, agency websites, management and productivity data set-up and analysis and much more. To access the Technology Hotline, contact PIA's Industry Resource Center by phone (800) 424-4244, fax (888) 225-6935 or email resourcecenter@pia.org. PIA is your source for all your technology questions. Last year, PIA's Tech Info Central was accessed some 600 times by PIA-member agents.
PIANJ-YIP: Call for nominations
The New Jersey Young Insurance Professionals is calling for nominations to recognize individuals who have made significant contributions to the association. The association will recognize the Young Insurance Professional of the Year (an individual who has displayed exceptional dedication to professionalism and service); and the Distinguished Service recipient (an individual who has worked to further the goals and objectives of YIP) at the 2014 PIANJ/PIANY Joint Annual Conference in Atlantic City Monday, June 9, 2014. For a nomination form, click here. The deadline for nominations is Friday, May 16, 2014. Return forms to lbunce@pia.org or fax to (888) 225-6935.
Homeowners Consumer Guide available
The DOBI offers a Homeowners Consumer Guide, which provides consumers with basic information on homeowners coverages; what to look for when purchasing a policy; what to do in the event of a loss; policy cancellation; as well as a comprehensive question-and-answer piece that highlights some of the most commonly asked questions on homeowners coverage. To obtain a copy, access QS29154 in the PIA QuickSource library.

Click for more information.