Gov. Cuomo outlines 2013-14 Executive Budget
Earlier this week, Gov. Andrew M. Cuomo unveiled the proposed 2013-14 Executive Budget and Management Plan that builds on two years of balanced, fiscally responsible budgeting and invests in economic development, education reform, rebuilding after Sandy, provides support to local governments and school districts, and includes no new taxes or fees. Among other things, the plan also would reform the state's workers' compensation system. The reform plan will allow the State Insurance Fund to release reserves no longer needed to fund future liabilities. More…
PIANY congratulates Kevin Cahill, newly appointed Assembly Insurance Committee chair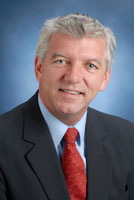 PIANY applauds Speaker Silver's announcement today that he has appointed Assemblyman Kevin Cahill, D-103, as insurance committee chairman in the State Assembly. As the representative of the 103rd Assembly District, Cahill is supportive of professional agents and their employees. He has long maintained relationships with local PIA agents in the Kingston area, meeting regularly to discuss insurance-related issues; and he has voted consistently in favor of PIANY priority legislation to help promote better understanding of the applicability and amount of hurricane windstorm deductibles in homeowners and dwelling fire policies and to establish reasonable standards for the operation of hurricane windstorm deductible triggers; to restrict direct-writer commercial advertisements in official state mailings to avoid misleading the public; and to help contain automobile insurance premium costs by preventing the imposition of surcharges for minor accidents. He also was sponsor of legislation introduced last year in response to PIANY's request to require insurers of property to eliminate from the claims record of an insured, any claim of loss made and paid in good faith, which is discovered to be false and the proceeds of such claim are repaid to the insurer.
Assembly Majority Leader reintroduces PIANY top-priority certificate legislation
Today, Assembly Majority Leader Joseph Morelle, D-132, reintroduced legislation at the request of PIANY, which would prevent certificate holders from seeking the illegal creation of unique and highly improper certificates. This legislation would require that only certificates filed with and approved by the superintendent would be permissible for use. PIANY applauds Morelle's consistent support of independent insurance agents who are burdened daily by requests to issue certificates that, if honored, would violate the law. This occurs when licensed producers are asked to complete certificate of insurance forms on behalf of their clients that add terms or clauses that a public entity or other third-party certificate holder requires, but are not contained in the insurance policy. The Department of Financial Services has issued at least three regulatory directives dealing with certificates of insurance, reciting its position (with which PIANY agrees) that certificates of insurance should be used only to provide evidence of insurance in lieu of an actual copy of the applicable insurance policy and should not be used to amend, expand or otherwise alter the terms of the actual policy. Yet, the problem for producers continues. PIANY will use all available resources to pass this bill this session. Stay tuned to learn how you can help.
House passes $50.5 billion in Sandy aid, vote held up in Senate
Last week, the House of Representatives approved $50.5 billion in long-delayed federal disaster aid to victims of Superstorm Sandy. The aid package for the storm that ravaged the Northeast now moves to the Democratic-controlled Senate, where it is expected to win passage. More… The Senate planned to vote on the bill this week. However, first the Senate must resolve issues regarding the rules of the Senate chamber. More…
Govs. Cuomo, Christie and Malloy issue a joint statement on House's action on disaster bill
New York Gov. Andrew M. Cuomo, New Jersey Gov. Chris Christie and Connecticut Gov. Dannel P. Malloy released the following statement regarding passage of the disaster relief package by the House of Representatives was issued Jan. 15: "We are grateful to those members of Congress who today pulled together in a unified, bipartisan coalition to assist millions of their fellow Americans in New Jersey, New York and Connecticut at their greatest time of need. The tradition of Congress being there and providing support for Americans during times of crisis, no matter where they live across this great country, lives on in today's vote in the House of Representatives. We anticipate smooth passage when this package moves back to the Senate for final approval and for this long-awaited relief to finally make its way to our residents."
Sandy raises the question: Should hard-hit areas be rebuilt?
An article by the Associated Press re-examines the question that surfaces after a disaster: Is it better to rebuild in an area that was hard-hit by a storm or leave the area alone and let nature reclaim it? According to the National Oceanic and Atmospheric Administration said that in 2003, approximately 153 million people—53 percent of the nation's population—lived in coastal counties, an increase of 33 million people since 1980. The agency forecasts 12 million more to join them by 2015.
FEMA issues checklist to help homeowners rebuild
The Federal Emergency Management Agency created a checklist to help Storm Sandy survivors rebuild smarter, stronger and safer so their homes are protected in future storms. To access the checklist, click here.
Professional, independent agents demonstrate extraordinary service in the wake of Sandy
Not surprisingly, PIA members continue to extend extraordinary service to help their clients after Sandy, and we'd like to share that. Do you have customers who can report how they benefited from working with a professional, independent agency? Have you worked with any carriers that have shown exemplary customer service? Please share your photos and stories with your PIA Communication Department by emailing them to mchristiano@pia.org.
Bill to prevent unfair disaster insurance practices introduced in the Assembly
Assemblywoman Nicole Malliotakis, R-60, has drafted legislation that would define what would constitute an unfair claims settlement practice during a declared state disaster emergency, and create a private right of action for violations thereof. More…
PIANY directors begin local office visits to lawmakers
On Jan. 11, PIANY past President Henry Kaye met with Buffalo Assemblywoman Crystal D. Peoples-Stokes, D-141, to discuss PIANY priority issues for the upcoming 2013 legislative session, including reformation to New York's unique "scaffold law," Labor Law 240/241(a); certificates of insurance; repeal of the mandatory photo inspections and measures to reduce auto fraud, including reform to New York's no-fault system. This is the first PIANY Legislative Office Visit of 2013, by which PIA members meet with their representatives in their local offices, with more planned. If you would like to participate in PIANY's Legislative District Office Visit Program email govaffairs@pia.org or call the Government & Industry Affairs Department at (800) 424-4244, ext. 319, to get more information or join the effort.
PIANY legislative hot lists
Want to see the status of an important bill? Think PIA first. Select PIANY Priority Bills for bill status. Select Recent Actions for any movement in the past week affecting any bill PIANY is tracking. More information, including summaries and bill texts, can be viewed by typing the bill number in the Assembly or Senate bill search sites.
PIANY's MetroRAP to honor insurance professionals
Insurance professionals from throughout the New York City metro area will flock to Brooklyn, Thursday, Jan. 31, 2013, for PIANY's MetroRAP. Don't miss the opportunity to congratulate this year's award winners at lunch: the Executive of the Year award will be given to Jim Romanelli, zone officer senior vice president northeastern zone, CNA Insurance Co.; Steve Sternberg, senior vice president of business development, BankDirect Capital Finance, will be given the Industry Professional of the Year award; and Harvey A. Leff, former president, Brooks of New York, will be honored with a Presidential Citation. The Bernard I. Kozel and Arthur I. Moll Memorial scholarships also will be awarded. The daylong event also will include CE-approved education sessions, networking opportunities and an expansive trade show. For more information, or to register, click here.
WC travel mileage rate changes Jan. 1
The mileage rate for reimbursement to workers' compensation claimants for travel by automobile on or after Jan. 1, 2013, shall be 56.5 cents per mile (up from 55.5 cents last year). For more, see Subject No. 150-18.1.
NCCI studies medical services for 20 years or older claims
The National Council on Compensation Insurance released a new study that looks at workers' compensation medical services provided beyond 20 years after the injury, with a view toward anticipating which medical service categories will account for the largest shares of costs and future treatment and utilization that will drive those costs. It is likely that more than 10 percent of the cost of medical benefits for the workplace injuries that occur this year will be for services provided more than two decades into the future. That percentage has been growing and might continue to grow. Some key findings concerning services provided from 20 to 30 years following the date of injury are: 1.) Patients are predominantly male, more so than can be explained by historical gender differences in the workforce; 2.) Deteriorating medical conditions of the more elderly claimants is not a main cost driver—indeed, claimants younger than age 60 cost more per year, per claimant, to treat than those older than age 60; 3.) Relative to services within the first 20 years after injury, care provided later has a significantly greater portion of cost going for prescription medications, supplies, home health services, and the maintenance of implants, orthotics and prosthetics. This study is a "quick first look" at some types of analysis that can be gleaned from NCCI's new Medical Data Call.
Company earnings reports
The Travelers Cos. reported net income of $304 million, or $0.78 per diluted share, for the quarter ended Dec. 31, 2012, compared to $618 million, or $1.51 per diluted share, in the prior year quarter.
Real Time Day 2013 set for April 9
The Real Time/Download Campaign announced that its second Real Time Day will be held Tuesday, April 9, 2013, with a goal of increasing activity and awareness for the independent insurance agent channel to save time and costs on insurance workflows. Plans for Real Time Day 2013 will include: web broadcasts featuring discussions with Real Time and Download agent users and technology experts; webinars and education events sponsored by agency management systems user groups; presentations by insurance carriers and vendors on using Real Time tools; and contests and prizes to recognize success in Real Time and Download usage and participation in Real Time Day.
Webinar: NFIP requirements, program changes and more
Nationally recognized flood insurance expert Rita Hollada, CIC, CPCU, CPIA, will conduct a three-hour Webinar Understanding the NFIP, Tuesday, Jan. 29, 2013, from 10 a.m.-1 p.m. (for 3 BR, C3, PA, PC credits). In the aftermath of Sandy, understanding the flood insurance program is more important than ever before. Your entire agency staff—anyone who may discuss flood insurance—should attend and learn the latest on this important program. For more information, or to register, click here.
PIANY's upcoming Webinar schedule
PIANY has a number of Webinars scheduled in the upcoming months. These Webinars allow you to learn valuable continuing-education credits without leaving your office. Plan to take part in the following programs: The Latest in E&O (and What Can Be Done About It), Tuesday, Feb. 5, 2013, from 10 a.m.-1 p.m. (for 3 BR, C3, PA, PC credits). Included in this seminar will be an extensive discussion on the major E&O issues that agents face and the new plaintiffs that are bringing litigation against today's agent. Construction Insurance Requirements ("Not Really the Same Old Thing"), Tuesday, Feb. 12, 2013, from 10-11 a.m. (for 1 BR, C3, PA, PC credit). Participants will be introduced to a new concern that is expected to be reflected within the construction requirements for general contractors and subcontractors doing work in New York state. Selling Employee Benefits? The Keys to Keep It from Becoming an E&O Headache, Thursday, Feb. 21, 2013, from 10-11 a.m. (for 1 BR, C1, C3, LA, LB, LSB, PA, PC credit). For agencies involved in selling employee benefits, there are many loss-control initiatives that they can undertake to minimize their E&O exposure. This course will review a number of overall issues, as well as some initiatives specific to the sales and services process.
New & improved: CISR 5-of-9 program
The CISR designation program now includes nine course offerings. To earn the CISR designation, participants will need to pass exams for five of the nine courses. However, anyone is welcome to attend the classes without taking the exams. There is no special order in which courses must be taken. If you are more familiar with a given topic, you may want to begin with that course. The CISR program is a CE credit-approved, nationally recognized designation program that takes a practical, hands-on approach to learning. This designation is recognized nationwide as an important credential—one that benefits individuals, their agencies and their customers. Through this program, developed by the National Alliance for Insurance Education, students who are committed to CE and career growth can obtain the highest level of professional insurance education. This uniquely powerful training is designed to help you conquer the challenges of today by making customer service representatives more professional, more productive and more profitable. The CISR program is for all insurance personnel who make customer service their priority. CISR courses include: 1IC: Commercial Casualty I—CGL; AI, 2IC: Commercial Casualty II—BAP, WC, Excess; IP: Insuring Commercial Property; PR: Insuring Personal Residential Property; PA: Insuring Personal Auto Exposures; PM: Personal Lines—Miscellaneous; LHE: Life & Health Essentials; ELR: Elements of Risk Management; and AO: Agency Operations. For more information, click here or call (800) 424-4244.
PIANY explains worker misclassification law
In October 2010, New York state's Construction Industry Fair Play Act deemed all construction workers to be employees—unless they could meet stringent criteria for being treated as independent contractors. (Having a separate workers' compensation policy does not make someone an independent contractor.) PIANY offers two resources—QuickSource document No. QS31263—Construction Industry Fair Play Act creates presumption of employment and a customer flier, New York's "Construction Industry Fair Play Act"—information for contractors about workers' compensation insurance, to assist you in educating your clients about these important rules. The consumer flier can be found in PIANY's Agency Marketing Tool Kit, under "Consumer fliers."