New PIP rules in effect after court denies stay request
Recently, New Jersey's Superior Court has denied a medical group's request for a stay of the new motor vehicle personal injury protection regulations, which means the new PIP regulations went into effect as originally planned on Jan. 4, 2013. Background: This PIP reform proposal has been the subject of repeated challenges from entities and groups that fear that attempts to get PIP costs under control are an attack on their livelihoods. This latest round of PIP reform measures dates back to August 2011, when the Department of Banking and Insurance first indicated it was moving in this direction. In January 2012, the department revised its original proposal substantially in response to public comments. PIP reform attempts in New Jersey date back even farther, with a 2007 fee schedule delayed until 2009, when the state's highest court upheld the DOBI's efforts.
Bill on reverse rate evasion moves in Assembly
A-2204, a bill that would to criminalize reverse rate evasion, was passed out of the Assembly Financial Institutions and Insurance Committee yesterday. The bill makes reverse rate evasion conduct prohibited by the New Jersey Insurance Fraud Prevention Act. Reverse rate evasion occurs when a resident of New Jersey or someone who has a vehicle principally garaged in New Jersey operates a vehicle on New Jersey roads and insures the vehicle under an out-of-state policy. The bill does not currently have a Senate companion.
One-page summary of policy bill moves in Assembly
A-3642 was passed out of the Assembly Financial Institutions and Insurance Committee yesterday. This bill would require homeowners policies to contain a one-page summary of the policy, including notable coverages and exclusions under the policy. Current law requires the policy to include an explanation of the policy's hurricane deductible as well as National Flood Insurance Program information. Under this bill, the commissioner of the DOBI has the power to determine the coverage and exclusion information to be included. The bill's companion legislation is S-2502.
Mold relief part of Sandy relief aid package
According to Sen. Charles Schumer, D-N.Y., the second part of the Sandy relief aid package includes as much as $1 billion to help homeowners deal with mold remediation. More…
MSO commercial liability form changes
The Mutual Service Office Inc. is making an editorial change in form MCL 169—Designated Ongoing Operations Exclusion—Part II, where a reference within the form to a specific Supplemental Coverage number has been changed to that coverage's name. Also, the MSO is introducing a new endorsement MCL 339—Additional Insureds—Landlords—Primary and Non-Contributory Basis—Part II, which is an optional endorsement to address the exposure of tenants who are asked to show their landlord as an additional insured. These changes, announced in a recent bulletin, are effective Jan. 15, 2013.
ISO revises Fire Suppression Rating Schedule and Public Protection Classification Structure

The Insurance Services Office Inc. announced that it is revising its Fire Suppression Rating Schedule and restructuring its property rating rules to recognize a revised Public Protection Classification structure. ISO collects information on municipal fire protection efforts for more than 47,000 fire response jurisdictions throughout the U.S. Using the Fire Suppression Rating Schedule, ISO assigns a Public Protection Classification from 1 to 10, with Class 1 generally representing superior property fire protection and Class 10 indicating that the area's fire suppression program doesn't meet minimum criteria. "ISO undertook a comprehensive effort to review the content of the FSRS with the goal to identify those portions of the current grading evaluation that warranted necessary revision," according to Robert Andrews, vice president of Community Hazard Mitigation, who is responsible for countrywide implementation of ISO's PPC program. "During development of the new edition of the FSRS, we examined commercial property and homeowners loss experience," added Thompson. "Based on the results of that analysis, we plan to introduce new categories within the PPC structure to recognize favorable loss experience for certain communities, relative to split classifications, that reflect the reduced loss potential when compared to single-class communities." A split classification is one in which properties within a given community may vary in class based on their distance from a responding fire station or distance from a recognized water source (e.g., hydrant). ISO will begin applying the new schedule this summer, with the revised PPC structure taking effect in 2014.
NFIP offering post-flood webinar Jan. 16
The NFIP is offering a post-flood webinar Wednesday, Jan. 16, 2013, at 10 a.m., focusing on the information agents need in the early stages of loss reporting and claims handling, including: common post-flood coverage issues; the claims process; the appeals process; the increased cost of compliance and how to apply; the role of the SBA; the impact of Biggert-Waters 2012; and available resources. The course is free, but space is limited. No continuing-education credits are offered for this course in any state. To register, click here.
SBA loans more than $700 million to people affected by Sandy
The U.S. Small Business Administration has approved more than $720 million in disaster loans to homeowners, renters and businesses affected by Sandy. Loans still are available. Applicants may apply online using the Electronic Loan Application via SBA's website or visit one of the local recovery centers for one-on-one assistance.
Professional, independent agents demonstrate extraordinary service in the wake of Sandy
Not surprisingly, PIA members continue to extend extraordinary service to help their clients after Sandy, and we'd like to share that. Do you have customers who can report how they benefited from working with a professional, independent agency? Have you worked with any carriers that have shown exemplary customer service? Please share your photos and stories with your PIA Communication Department by emailing them to mchristiano@pia.org.
In memoriam: James H. Davies
It is with deep sadness that we report PIANJ past President, National Director and PIA National President James H. Davies, founder of Davies and Associates and father of Bob Davies, who currently serves on PIANJ committees, passed away last week. Jim served as PIANJ president in 1976-77; as PIANJ national director for several years from 1979; and PIA National president in 1985-86. In lieu of flowers, the family has suggested donations to St. Andrews Episcopal Church, 419 South St., New Providence, NJ 07974, or the New Providence Rescue Squad, P.O. Box 671, New Providence, NJ 07974. PIANJ will send a contribution. Further information may be obtained at www.bradleyfuneralhomes.com.
Department of the Treasury/IRS release proposed rulemaking on the PPACA's employer requirements
On Dec. 28, 2012, the Department of the Treasury and the IRS released a notice of proposed rulemaking on the Affordable Care Act's employer requirements under Internal Revenue Code Section 4980H, which took effect Jan. 1, 2014. The proposed regulations are intended to provide a comprehensive set of rules upon which employers can rely as they work to comply with the law and mitigate tax liabilities. The proposed regulations may be relied upon and will remain in effect until final regulations are issued. The notice of proposed rulemaking ran in the Jan. 2, 2013, Federal Register, and comments are due by Monday, March 18, 2013. In addition, the IRS announced a public hearing on the notice of proposed rulemaking for Tuesday, April 23, 2013.
Update on PPACA
To date, 23 states, including New Jersey, have declared that they will not set up their own health insurance exchanges to help individuals and small businesses find affordable coverage. Instead, these states will participate in a plan set up by the federal government. However, the White House recently announced that states have more time to comply with the new health-care law. States now have until Friday, Feb. 15, 2013, to file applications to operate exchanges.
DOL seeks comments on employees' experience with misclassification
The Department of Labor is soliciting comments concerning its proposal to collect information about employment experiences and workers' knowledge of basic employment laws and rules so as to better understand employees' experience with worker misclassification. Written comments must be submitted (WHDPRAComments@dol.gov) on or before Tuesday, March 12, 2013.
A.M. Best news
A.M. Best Co. has withdrawn the financial strength rating of "A" (Excellent) and issuer credit rating of "a" of Fairfield Insurance Co. (Stamford, Conn.) following the merger into its affiliate company, Genesis Insurance Co., on Dec. 31, 2012. The ratings of GIC are not affected by this transaction. According to A.M. Best, "The merger is part of immediate parent-company General Reinsurance Corp.'s strategy of business simplification and to achieve increased efficiencies. Gen Re's ultimate parent company is Berkshire Hathaway Inc. (Omaha, Neb.). More…
Ask PIA: Flood and business interruption
Q. Would a flood trigger business interruption coverage? A. Check the "causes of loss" forms (CP 10 10, CP 10 20, CP 10 30) attached to the commercial property policy, since one of these causes must occur to trigger business interruption coverage, if purchased. None of these causes include flood. For a comprehensive answer to this question, click here. To access our entire Ask PIA library of frequently asked questions and expert answers by PIA's technical staff, click here.
PIANJ's upcoming Webinar schedule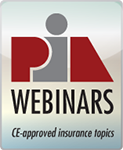 PIANJ has a number of Webinars scheduled in the upcoming months. These Webinars allow you to learn valuable continuing-education credits without leaving your office. Plan to take part in the following programs: Understanding the NFIP, Tuesday, Jan. 29, 2013, from 10 a.m.-1 p.m. (for 3 GEN NFIP credits). This course explains the NFIP in-depth and meets FEMA's requirements for Section 207 of the Flood Insurance Reform Act. All insurance agents who sell Standard Flood Insurance Policies issued through the NFIP should attend. The Latest in E&O (and What Can Be Done About It), Tuesday, Feb. 5, 2013, from 10 a.m.-1 p.m. (for 3 GEN credits). Included in this seminar will be an extensive discussion on the major E&O issues that agents face and the new plaintiffs that are bringing litigation against today's agent. Selling Employee Benefits? The Keys to Keep It from Becoming an E&O Headache, Thursday, Feb. 21, 2013, from 10-11 a.m. (1 GEN credit). For agencies involved in selling employee benefits, there are many loss-control initiatives that they can undertake to minimize their E&O exposure. This course will review a number of overall issues, as well as some initiatives specific to the sales and services process.
New & improved: CISR 5-of-9 program

The CISR designation program now includes nine course offerings. To earn the CISR designation, participants will need to pass exams for five of the nine courses. However, anyone is welcome to attend the classes without taking the exams. There is no special order in which courses must be taken. If you are more familiar with a given topic, you may want to begin with that course. The CISR program is a CE credit-approved, nationally recognized designation program that takes a practical, hands-on approach to learning. This designation is recognized nationwide as an important credential—one that benefits individuals, their agencies and their customers. Through this program, developed by the National Alliance for Insurance Education, students who are committed to CE and career growth can obtain the highest level of professional insurance education. This uniquely powerful training is designed to help you conquer the challenges of today by making customer service representatives more professional, more productive and more profitable. The CISR program is for all insurance personnel who make customer service their priority. CISR courses include: 1IC: Commercial Casualty I—CGL; AI, 2IC: Commercial Casualty II—BAP, WC, Excess; IP: Insuring Commercial Property; PR: Insuring Personal Residential Property; PA: Insuring Personal Auto Exposures; PM: Personal Lines—Miscellaneous; LHE: Life & Health Essentials; ELR: Elements of Risk Management; and AO: Agency Operations. For more information, click here or call (800) 424-4244.
New Jersey Auto Insurance Buyer's Guide (commercial PPA edition)
The DOBI offers an auto insurance buyer's guide for those individuals who have individually owned private-passenger automobiles written on commercial insurance policies. Through this guide, your insureds will gain a better understanding of the different types of automobile insurance coverages available to them, including different limits and deductibles that may be available, as well as an explanation of personal injury protection, uninsured/underinsured motorist coverage and more. To obtain a copy of this guide, log on to the PIANJ website and type QS29227 in the Google-facilitated search box or fax a request to PIANJ's Industry Resource Center at (888) 225-6935.