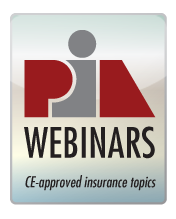 2013 Webinar sponsor: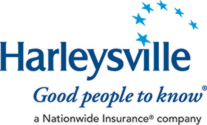 Interested in sponsorship? Contact PIA for details or get the contract here.
Registration fees are $25 per person, per CE credit hour for members, $50 for nonmembers, unless otherwise noted.
(CE-approved Webinars must be taken on an individual basis to earn CE credit.)
No tests need to be taken for webinar classes.
Earn CE right at your desk, with the best of the best ... LIVE!
Upcoming Webinars feature hot topics as instructed by Steve Anderson, Rita Hollada, Curtis Pearsall, Mishell Magnusson, John Fear and more!
Steve Anderson, CIC


The Anderson Agency Report

Steve Anderson provides information to insurance agents about how they can use technology to increase revenue and/or reduce expenses. He speaks professionally to hundreds of agents each year at National Alliance events and at many state association conventions and technology forums on the future of technology, the social web, and how insurance agencies can establish their internet presence. He has authored many articles that have appeared in virtually every insurance industry publication. He has over 30 years experience in the insurance community.
Dan Corbin, CPCU, CIC, LUTC


PIA

Dan Corbin is presently employed by the regional Professional Insurance Agents of New York, New Jersey, New Hampshire and Connecticut as the Director of Research. He is an instructor for various seminars aimed at educating agents and their staff on insurance coverages. He also teaches a property and casualty producer licensing course in Connecticut.

Another area of Corbin's duties involves technical writing for PIA publications. He has a regular column in the monthly PIA Magazine, writes technical news articles for the biweekly PIA Reporter in all four states and writes copy for the PIA Web site. Each year, he responds to nearly 1,000 member inquiries and problems regarding coverage and regulatory issues.

Corbin's insurance background spans 30 years of varied experience as an agency owner, commercial service representative, producer, personal lines manager and insurance specialist for a mortgage lender.

John Fear, CPIA, CISR, CPSR

John Fear has worked in the insurance industry for over twenty years in the areas of Life & Annuity, Small Commercial, Boiler & Machinery, Field Operations, Process Engineering and Personal Insurance. In 2007, John left the corporate life to start his own consulting firm – Premier Business Consulting.

As National Director of Agency Development at Travelers, John conducted nearly 100 workshops for agency owners and principals (with 1,500+ attendees). John also developed and facilitated over 60 Sales training sessions throughout the country for more than 2,000 Producers and CSRs. He has consulted with dozens of agents across the country, focusing on improving sales and maximizing operational efficiencies.

Since starting his own business, he has been a featured presenter at several National Sales Meetings for major insurance companies and Independent Agency organizations. Those experiences have given him an outstanding knowledge of, and insight into, real life solutions that effectively meet agency needs. His workshops enable agents to meet and exceed their business objectives by incorporating sound business principles into their everyday operations.

John lives in the Adirondack Region of New York State with his wife Cheryl and their two year old Cairn terrier Sasha.
Robin Federici, CPCU, AAI, ARM, AINS, AIS, CPIW


Robin C. Federici, CPCU, AAI, ARM, AINS, AIS, CPIW, began her career in the property & casualty insurance business over thirty years ago. She has in-depth knowledge and experience in both insurance agency and company operations and procedures. She is an experienced writer and presenter of classroom instruction, webinars and streaming video programs.

For over fifteen years, Robin served as the Director of Education and Communications -- and then Assistant Executive Vice President -- for Rhode Island's largest professional trade association for independent insurance agents and brokers. During her tenure, Robin earned many awards including the prestigious L.P. McCord Education Award.

In 2003, Robin formed her own training and consulting company, – Insurance Education & Training Associates, LLC (IETA).

Robin earned the Accredited Adviser in Insurance (AAI) designation in 1987. In 1992 she earned the Chartered Property Casualty Underwriter (CPCU) designation and in 1999, the Associate in Risk Management (ARM) designation. In 2011, she earned the Associate in Insurance (AINS) and the Associate in Insurance Services (AIS)

She is a past president of the RI Chapter Society of CPCU and served as a member of their Scholarship Board. Robin is also a past National Governor and member of the national Society of CPCU Board of Governors.

Robin has served the Independent Insurance Agents and Brokers of America (IIABA) on several committees, including the ACSR sub-committee and the Virtual University Research and Development Committee.

Robin was also a long-time member of the Accredited Customer Service Representative (ACSR) Advisory Committee of the Insurance Institute of America/American Institute of CPCU.


Robin currently serves as a Technical Insurance & Agency Management expert for the IIABA Virtual University.
Bill Haggerty, CPCU, ARM, AIM, AU

Bill is underwriting manager at Housing Authority Insurance Group in Cheshire, Connecticut. Before his current position, Bill spent 25 years with Zurich Insurance North America in underwriting and marketing management positions. He began his insurance career with The Hartford Insurance Group in New York before moving to Farmington, Connecticut with his family in 1990.
Rita Hollada, CIC, CPCU, CPIA


Vice-President of The Insurance Professionals, Inc.

Rita Hollada is the Vice-President of The Insurance Professionals, Inc., a consulting and professional education group. She is an honors graduate of Virginia Tech in Blacksburg, Virginia and began her professional career in human resources management before entering the insurance industry in 1979 when she and her husband started an agency from scratch. She remains a licensed agent and broker.

Rita earned the designation of Accredited Advisor in Insurance in 1983, followed by the designations of Chartered Property Casualty Underwriter in 1987 and Certified Insurance Counselor in 1988. In 1997, she was awarded PIA National's Presidential Award for her work with flood insurance and natural disaster legislation. She received the CPIA designation in 1998 after assisting that organization with the development of its Saleswise Success Seminars.

Rita remains an active member of the insurance industry, representing PIA National on several committees. She is also a contributor to numerous magazines and professional journals. Rita wrote a regular column on flood insurance issues for the Professional Agent Magazine for several years. She currently serves on the Flood Insurance Producers National Committee where she served as Chairman for two years. She also has served on the board of the Natural Disaster Coalition.

In addition to the insurance industry, Rita has been invited to speak on effective communication and customer service to many diverse groups. She is a member of the National Faculty of the CIC program as well as an instructor for other National Alliance programs. She designs and instructs special topic courses for insurance companies, agencies, industry associations and local community colleges and often works as a consultant with agencies on agency management issues.
Mishell Magnusson, CIC, CISR, FIPC


KJM Consulting & Training, Inc.

Mishell is the co-owner of KJM Consulting & Training, Inc. in Munnsville, New York. KJM specializes in providing a broad range of high quality training programs to insurance agencies; insurance companies and banks throughout the north east. These programs, normally designed for Continuing Education credits, cover all areas of the insurance & banking business, providing comprehensive education at all levels in entry level insurance; customer service; Commercial Lines sales & service; Personal Lines sales & service as well as management techniques. In addition to the customized training KJM also provides consulting services focusing on E&O; Procedure Manual development and implementation; and Agency Management training techniques.

Mishell currently holds New York State Property and Casualty Brokers and Agents Licenses; a New York State Life and Health Brokers License; a New York State Producer License to Act as a Consultant; a Certified Insurance Service Representative (CISR) designation; a Certified Insurance Counselor (CIC) designation; the Accredited Advisor of Insurance (AAI) designation; and the Federation of Insurance Professional Counselor (FIPC) designation.

A member of the Associate Faculty of Certified Insurance Counselors, Mishell is a frequent speaker for Professional Insurance Agents of New York, New Jersey, New Hampshire and Connecticut for CIC and CISR programs along with various other topics. Mishell is a past president of the Federation of New York Insurance Professionals and is a board member of the Insurance Professionals of the Mohawk Valley; she is the current President of the Madison County Historical Society along with being a member of the National Notary Association.
Curt Pearsall, CPCU, CPIA


President, Pearsall Associates, Inc.

Curtis Pearsall is the founder and principal of Pearsall Associates, a consulting firm focused on providing expert Errors & Omissions (E&O) loss control and risk management services to insurance agencies. He also provides litigation consultation and expert witness testimony for agencies and insurers.

Pearsall has more than two decades of experience in managing a national agents E&O program for Utica National. His prior background also includes more than five years as an insurance agent, so he has a hands-on knowledge of the agency world. He holds the designations of CPCU, CPIA, AU, ARM and AIAF.

Pearsall is President of the American Insurance Marketing & Sales (AIMS) Society.

Pearsall's writings on the topic of E&O regularly in Insurance Journal, Rough Notes and the numerous PIA state association publications. He is also a noted speaker, having made speaking engagements and seminars for various organizations at venues throughout the country.

Connect with Curtis Pearsall on LinkedIn
Jim E. Pittz, CIC, CPIA
PIA's Business Issues Director

Jim Pittz, CPIA, joined the PIA team in 2008 and currently holds the position of business issues director. His background spans more than 25 years with agencies, carriers and insurance technology companies, with most recently working as an underwriting manager for a national carrier.

In his current position, he is responsible for the development and implementation of PIA's overall technical industry-relations strategies and programs. He also advises PIA leaders and management on issues such as industry trends and PIA outreach, in addition to providing association members with information on insurance laws, regulations, residual-market procedures, policy forms, etc.

Pittz received his bachelor of arts from the State University of New York at Geneseo, in speech communication.
Katherine Kemp Jensen, CIC, LUTCF, CLTC

Kathy Kemp Jensen is recognized as a customer-oriented professional with years of successful management experience, including two decades of insurance agency consulting and sales, and technical insurance customer service. She is a knowledgeable Sales Consultant with the communication skills and ability to develop strong customer and team relations to achieve results that generate agency growth. She is highly skilled at analyzing processes, identifying agency challenges and needs, problem solving and presenting alternatives to achieve results in several areas of agency management. During her career with Allstate she met increasing sales plans ranging up to $2 million annually in a highly competitive market place. She met and consistently exceeded challenging retention plans for renewal business. Her efforts earned her the highest award levels ranking her as one of the top Independent Agency Consultants in Allstate. She consistently met and exceeded service objectives as noted by her agents in Allstate's Agency Relationship Surveys. She has managed lease renewals, construction and relocation of offices as well as counseling agencies on the choice of location, signage and equipment needs of new office locations.


She has sold products directly to customers and found that Long Term Care Insurance has been a product that she has enjoyed selling and is passionate about. It is personal, as she has seen family members go through the pain mentally and financially that result from having a relative in a long term care situation.


Having retired from Allstate she is now the Principal of KKJ Consulting dedicated to helping insurance agencies improve their customer relationships, work processes, and their bottom line as well as helping people with their Long Term Care plans. She holds the LUTCF (Life Underwriting Training Council Fellow), CIC (Certified Insurance Counselor) and CLTC (Certified in Long Term Care) professional designations.


An upstate New York native, Kathy lives just over the border in Pennsylvania with her husband, Fred and dog, Dandy.