EDUCATION HIGHLIGHTS
LAST CHANCE TO PRE-REGISTER...
LIRAP IS THIS THURSDAY!

April 25, 2013, Great Neck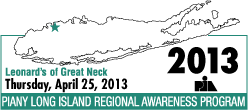 Register Today!
Schedule of Events:

7 a.m. - 2:30 p.m.
— PIA registration desk open
7 a.m. - 10:30 a.m.
— Continental breakfast
8 a.m. - 9:50 a.m.
— Education session: Healthcare Reform and its Effect on New York State
9 a.m. - 1:15 p.m. Trade show open
— Exhibitor and cash door prize drawings
9 a.m. - 10:30 a.m.
— Continental breakfast at the trade show
1:15 p.m. - 2:45 p.m. Keynote/awards luncheon
— 2013 LI RAP award presentation
Sponsored by: Willis Re
2:45 p.m. - 3 p.m. Coffee and dessert
— Major door prize drawings
3 p.m. - 5:50 p.m.
— Education session: Everything You Wanted to Know About E&O

Sponsored by: Excess Line Association of NY
---
PIA's CE-approved Webinars:
Get the CE you need without leaving your desk.
PIANY will be delivering many more live Webinars to your desk throughout 2013. Most programs are approved for CE credits and make it easy for you to get the insurance information you need to know while earning CE credits—from the convenience of your office.
---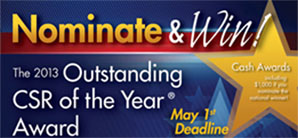 You, or someone you nominate, may be the next national Outstanding CSR of the Year®.
Click here for more info.
---
New Employee Orientation
Online courses designed for new hires.
Happening on May 13th:

NEO Series: New Employee Orientation for Agency Personnel

NEO Series: Personal Lines Coverage Basics

Click here for more info or to register
---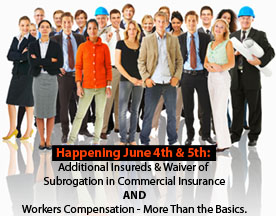 Join us on Tuesday, June 4, 2013 at the Holiday Inn Buffalo-Intl Airport, Cheektowaga and/or
Wednesday, June 5, 2013 at the Hilton Garden Inn- Syracuse, East Syracuse.
Earn up to 6 CE Credits in One Day!

For more info CLICK HERE.
---

Experience advanced insurance training with the CIC education program.
If you need CE credits, desire an advanced education experience and have the drive to succeed in a demanding profession, the CIC program is for you. The CIC program—presented exclusively by PIA in New York, New Jersey and Connecticut—is a nationally acclaimed continuing education designation developed by the National Alliance. Its course content and practical application make it the most essential program for both agency and company personnel. Plus, CIC institutes are approved for CE credit in all states.
You may complete the institutes in any order and need not attain a passing grade on the exam before continuing on to the next institute. You have five calendar years from the time you pass the first exam to complete the program. You are encouraged to complete all five to earn the designation, though this is not required (the exams are optional). Once achieved, the designation requires an annual update.
The five CIC Institutes consist of Personal Lines, Commercial Casualty, Commercial Property, Life & Health and Agency Management.
For more info, to view the schedule or to register CLICK HERE.
---

Now choose 5 of 9 CISR classes to earn the designation.
Customers won't forget an account manager or CSR who has the CISR designation— because they deliver service that is truly noticeable. The CISR program is a CE credit-approved, nationally recognized designation program that takes a practical, hands-on approach to learning. To earn the CISR designation, you must complete five of the courses and exams within three calendar years following the year in which you successfully complete the first exam. However, anyone is welcome to attend the classes without taking the exams.
To earn the CISR designation: The CISR designation program includes 9 course offerings. To earn the CISR designation, participants will need to pass exams for 5 of the 9 courses. However, anyone is welcome to attend the classes without taking the exams. There is no special order in which courses must be taken. If you are more familiar with a given topic, you may want to begin with that course.
CISR courses - Choose 5 of 9 to earn the designation
Available now:
Insuring Commercial Property
Insuring Personal Residential Property
Insuring Personal Auto Exposures
Agency Operations
Commercial Casualty I: Essentials of Legal Liability-CGL,AI
Commercial Casualty II: BAP, WC, Excess Liability
Personal Lines - Miscellaneous
Life & Health Essentials
Elements of Risk Management
For more info, to view the schedule or to register CLICK HERE.
---

Come see why top insurance professionals have chosen to pursue the CPIA designation.
Earn 21 bridge NYCE credits when you earn the designation...no exams! Earn the designation and earn 21 NYCE applicable to all licenses.
Learn how to establish a culture of success at your agency with the CE-approved Certified Professional Insurance Agent designation. The CPIA program presents a systematic approach to agency dynamics—and when applied, gets all of your employees on the same page with regards to what your strengths are, how to avoid error and omissions, how to handle your claims, what process to take to handle your renewal business, how to make ethical decisions, and how to handle complaints.
The CPIA designation consists of three 1-day courses. They may be taken in any order and there are no exams.
CPIA 1 - Position for Success
CPIA 2 - Implement for Success
CPIA 3 - Sustain Success
What will I learn?The Insurance Success Seminars are designed to enhance the ability of producers, sales support staff and company personnel to efficiently create and distribute comprehensive insurance programs. Participants leave with ideas that will produce results immediately.
How do I earn it? To earn the CPIA designation, candidates participate in a series of three one-day Insurance Success Seminars
Is there a test involved? No, there are no exams.
For more info, to view the schedule or to register CLICK HERE.