PIA wins association leadership award for Storm Info Central
February 13, 2013
---
The Professional Insurance Agents of Connecticut, New Hampshire, New Jersey and New York State Inc. accepted the Empire State Society of Association Executives' 2013 Award for Excellence in Technology, recognizing the technological and informational assistance PIA provided independent agents–regardless of membership–during the crisis caused by Hurricane Sandy. The award was presented on Feb. 7 at the Hotel Albany, Albany, N.Y., in conjunction with the ESSAE annual awards ceremony and dinner. ESSAE is affiliated with the American Society of Association Executives, the center for association leadership.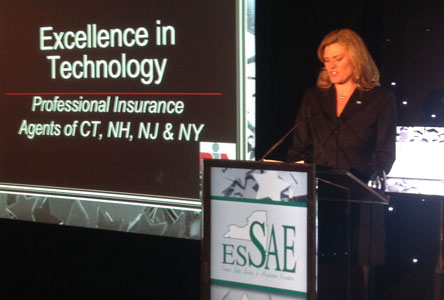 PIA Deputy Director Kelly Norris, CAE, accepts the award on the association's behalf.
"This award reinforces our commitment to helping our members–professional independent insurance agents–do what they do best and help their insureds when they need them most," said Diane Fowler, executive director of PIACT, PIANH, PIANJ and PIANY.
As Hurricane Sandy railed up the U.S. Northeastern coast, PIA recognized its members would face a multilayered challenge of maintaining their own homes and businesses, and being present to help their clients who would need them to help navigate the insurance and claims process, should Sandy cause damage. PIA created and maintained Storm Info Central online to help agents keep their businesses up and running. The site provided agents with information and tools to keep their promise to their clients and provide them with support, services and up-to-date information before, during and after the storm.
Power outages and evacuations created a major challenge to agencies, many of which lost access to offices and desktop computers. PIA member agencies found themselves working remotely, using cell phones, tablets and social media to communicate with their companies and clients. To help them as they managed this remarkable work, PIA created a mobile version so the information could be accessed via cell phone and tablet.
The site includes information specifically for insurance producers and information they can share with their customers immediately before, during and most importantly, after a storm when claims need to be filed. Recognizing the extent of the crisis Sandy caused, PIA removed restrictions so that Storm Info Central would be available to agencies and their clients regardless of membership in PIA until Jan. 1, 2013, when most claims had been initiated.
In fact, according to nominator and PIA Deputy Director Kelly Norris, CAE, who accepted the award on the association's behalf; the PIA Storm Info Central site had more than 4,000 hits and the mobile version had well over 1,000 hits from the time the storm hit until the end of the year. In addition, PIA's Industry Resource Center, which maintains the information on the site, fielded hundreds of member inquiries regarding Sandy.
"It was an honor to help independent agents who, faced with monumental challenges to their own property and business, never skipped a beat to help their neighbors and customers," said Norris.